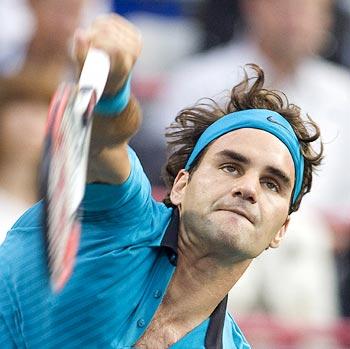 Roger Federer pointed to a little ring rust rather than the joys of becoming a new dad after beating Frederic Niemeyer 7-6, 6-4 on Tuesday to reach the third round of the Montreal Masters.
In his first match since lifting a record 15th Grand Slam singles title at Wimbledon, much has changed in a few weeks for Federer, who arrived in Montreal with his wife Mirka, new born twin daughters Charlene Riva and Myla Rose and a nanny in tow.
Ranked 487th, Canadian Niemeyer had hoped a few sleepless nights would help level the odds against the world number one.
But an opponent on diaper duty and the backing of a centre-court crowd of 11,000 could not save the 33-year-old in his final appearance at the tournament before retiring.
"I was happy with that performance today," Federer told reporters after launching his hardcourt campaign with his 20th straight win.
"After five, six weeks without a match you're just a little bit slow on your reaction, your return.
"Mirka is great, she handles it all well. Me too, I'm quite laid back and hands on [with the kids]. It seems to be working so far."
The Swiss added: "Today all-in-all I thought it was okay. I wish I could have gotten some more balls back on the return but that again was due to him serving [well]."
ERRATIC FEDERER
While Federer declared himself mostly satisfied with his performance there was none of the brilliance that swept him to back-to-back Grand Slam wins at Roland Garros and Wimbledon.
Throughout the 85-minute match, Federer struggled for form, spraying forehands wide and long and slamming routine overheads into the net.
The first set failed to produce a break, Federer taking the opener in a tie-break 7-3.
Niemeyer continued to battle in the second until Federer finally wore down the Canadian, earning the only break of the match to go up 4-3 before wrapping up proceedings.
Third seed Andy Murray and number four Serb Novak Djokovic, also back in action for the first time since Wimbledon, advanced smoothly.
Spain's Rafael Nadal prepared to open his title defence on Wednesday by playing doubles for the second consecutive day.
Briton Murray, who can snatch the number two world ranking from Nadal with a decent run in Montreal, beat Frenchman Jeremy Chardy 6-4, 6-2.
Serbia's Djokovic battled past Canadian wildcard Peter Polansky 6-4, 7-6.
Eighth-seeded Russian Nikolai Davydenko also advanced with 7-6, 7-6 win over Frenchman Paul-Henri Mathieu.
World number 10 Fernando Gonzalez of Chile survived a scare, battling back to beat 679th-ranked Canadian Milos Raonic teenager 4-6, 7-6, 6-4 in a first-round meeting.