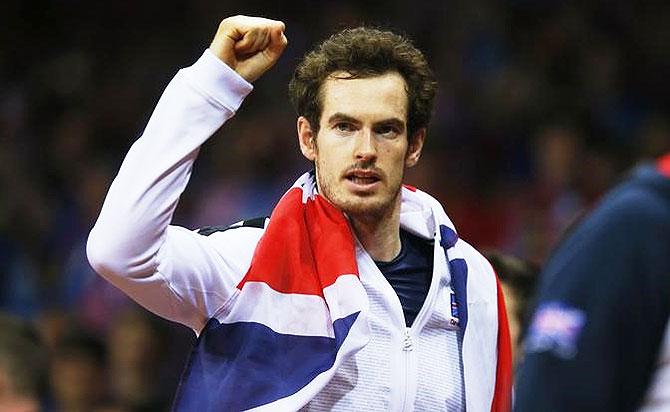 IMAGE: Newly-crowned World No 1 Andy Murray. Photograph: Jason Cairnduff Livepic/Action Images via Reuters
After all the battles and hard graft chasing the world number one spot, Briton Andy Murray arrived there without hitting a ball on Saturday as Milos Raonic pulled out of their Paris Masters semi-final due to a leg injury.
- Murray becomes oldest tennis World No. 1 in 42 years!
The triple grand slam winner, who will take over from Serb Novak Djokovic at the top when the rankings are updated on Monday, still went out on centre court for a practice session in front of a bemused crowd.
"I never thought I'd be No. 1 in the world and never, never imagined that was something that was going to happen," Murray told a news conference.
Murray is the first Briton to get to number one and, at 29 years and 174 days, he will be the oldest player to reach the summit for the first time since Australian John Newcombe in 1974, but only the fourth man in almost 13 years.
Djokovic, number one for 122 weeks since July 2014, was knocked out in the quarter-finals by ninth seed Marin Cilic on Friday.
Croat Cilic lost 6-4, 6-3 to American John Isner in the semi-finals on Saturday.
Murray took special pride in reaching the world number one ranking in an era when Roger Federer, Rafael Nadal and Novak Djokovic -- arguably some of the greatest players ever -- have dominated the game.
"That's the most satisfying thing, really. It's been such a difficult thing to do during my career because of how good the guys around me have been, the guys ahead of me," Murray, who will take on American John Isner in Sunday's final, told a news conference.
"It has been really, really hard to do it, been really difficult. Obviously they are three of the best players that have ever played the game."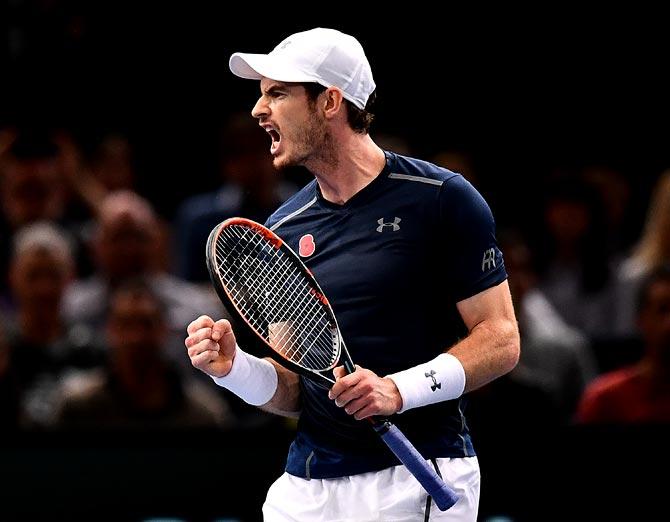 IMAGE: Andy Murray celebrates winning the first set against Tomas Berdych on Friday. Photograph: Dan Mullan/Getty Images
Murray patiently fought his way to the top and he was satisfied that his hard work had been rewarded, even if in anti-climatic fashion.
"I felt like getting to No. 1, it wasn't about this week and it wasn't just about last week or a few days here and there. It's about 12 months of work to get there," the Scot said.
"It felt obviously a little bit strange when it happened. But everyone was talking about this week, Oh, if you win or do this or whatever.
"Obviously, it's unfortunate the way that it happened today. I would have liked to have done it on the court, but it's been many years of work to get here."
Murray was far behind Djokovic after the Serb beat him in the French Open final in June, but an impressive series of victories leading to titles in Wimbledon, Beijing, the Shanghai Masters and Vienna, combined with his rival's loss in the Paris quarter-finals, propelled him to the top.
"I was so far behind in terms of points, and the amount of matches it would take me to win. I never expected to do what I had done after the French Open, so I was really down after I lost that match," Murray said.
"But things can turn around quick in sport, and it's just a strange sport. You had Novak losing yesterday to a guy against whom he'd won 14 times in a row. Stuff can turn around quick, and the last few months have been really good."
Murray will now set his sights on the ATP World Tour finals in London from November 13-20.
"Now that I have done it, I need to obviously sort of reset my goals and find the next thing to motivate me and try and push me to keep getting better," he said.