The Indiana Pacers threw open the NBA Eastern Conference finals on Friday, upsetting the Miami Heat with a 97-93 victory to level the best-of-seven series at 1-1.
LeBron James scored 36 points for Miami but gave up two crucial turnovers down the stretch that cost the Heat, while Roy Hibbert top-scored for the Pacers with 29 points and Paul George added 22 and produced some outstanding defensive work.
"That was a heck of a basketball game wasn't it?" said Pacers head coach Frank Vogel, whose team never looked intimidated in either of the opening games on the defending champions' home court.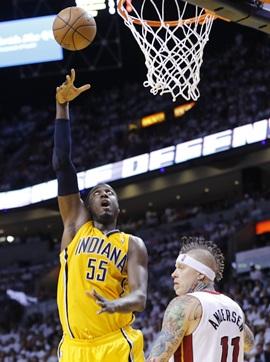 "This team believe we can win this series and they are giving it all their might, playing with confidence and rising to the challenge," he added.
The Pacers took full advantage of a slow start from Miami, grabbing a 10-point lead midway through the first quarter and they were up 53-47 at halftime.
With James producing some outstanding play yet again, Miami fought back and led 88-84 with 6:09 on the clock but, as in Wednesday's Game One overtime thriller, the Pacers refused to buckle and came roaring back.
Indiana took the lead with 48 seconds remaining with two George Hill free throws and on the next possession, James' pass intended for Ray Allen was stolen by David West.
Miami had another chance though when a 24-second clock violation on the subsequent Indiana possession gave them the ball back with the game on the line.
James had grabbed the winning score with just 2.2 seconds left in overtime in Game One and he had 17.6 seconds to tie or win the game this time.
However, his misplaced pass was collected by Hill, who was then fouled by James.
Hill made the two free throws to secure victory and a split from Miami's first two home games.
"LeBron played one of the best basketball games I've ever seen anyone play," Vogel said. "We just were able to make a few plays at the end."
James though was in no mood to reflect on the great play that had come before his turnovers, describing them as "careless".
"The first thing I always look for on the stat sheet is my turnovers. I had two key ones at a big point in the game. I am very disappointed in my judgment and my plays down the stretch. But I'll make up for them," he said.
It was a poor night for Miami's bench, who managed just 19 points with Allen, Norris Cole and Shane Battier among those who struggled.
"We have to figure out a way to get our shooters into the game more instead of trying to get them the ball and make them make a tough one late in the game," James said.
The series continues in Indiana on Sunday while in the Western Conference, San Antonio will look to take a 3-0 lead against Memphis on Saturday.
Photograph: Joe Skipper/Reuters