Jeremy Lin's sudden rise from obscure reserve to the toast of Broadway could not have come at a better time for the New York Knicks.
Lin scored 23 points and had a career-high 10 assists to lead the Knicks to a 107-93 rout of the Washington Wizards on Wednesday, the club's third straight victory since the former Harvard point guard entered the rotation.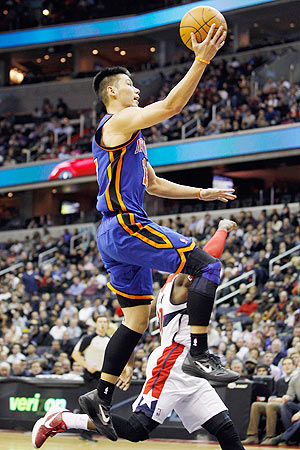 Despite the hot start, Lin said he was not concerned about being dubbed the "real deal."
"It hasn't even been a week yet, so I'm not really too worried about that," said Lin, who signed with the Knicks as a free agent in December.
"I just want to make sure I do what I can to help the team win every time I step out on the floor. I'm not really too worried about proving anything to anybody right now."
The Knicks are not the only ones excited about the emergence of Lin, a 6-foot-3 (1.91m), 200-pound (90.7 kg) undrafted guard signed by the Golden State Warriors in 2010 as a free agent.
Scores of Asian Americans at the Verizon Center cheered his every move, holding up signs, and jumping to their feet each time he sliced through the Wizards' defense.
Since he began getting significant minutes, Lin has averaged 25.3 points and 8.3 assists. He admits coming off the bench has not been easy.
"It's really hard to play heavy minutes -- you get really tired," he said. "I have a new respect for everyone who plays this many minutes every single night."
Lin, a California native whose parents are from Taiwan, came along at the perfect time for the Knicks (11-15), who are currently on the outside looking in for a playoff spot.
"He plays with great pace and tempo," said forward Jared Jeffries. "If you look at his last few games, I bet he has been one of, if not, the best point guard in the league.
"He gives us a lot of energy and we feed off of that."
The Jeremy Lin fervor, affectionately dubbed "Linsanity," has National Basketball Association (NBA) viewership soaring in China. He is the NBA's first Chinese-American and fifth Asian-American, the league said.