LeBron James scored 29 points and flirted with a triple-double as the Miami Heat claimed a 103-97 win over the Oklahoma City Thunder in a rematch of last season's NBA finals on a Christmas Day schedule of five games.
The Thunder, the NBA's top team and the Heat, the Eastern Conference leaders clashed in a physical contest that was thick with playoff intensity.
"We're two teams that have the same aspirations and that's to try and win a championship," James told reporters after the game. "Both teams are not going to short cut anything and just try to get better each and every day.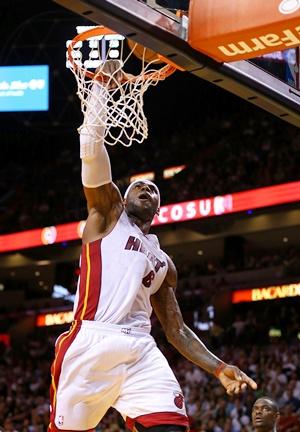 "It was good fight by both teams."
James added nine assists and eight rebounds to go along with his 29 points while Dwyane Wade had 21 and Mario Chalmers contributed a season-high 20 as the Heat stretched their winning streak to five games.
The Thunder received a 33-point effort from Kevin Durant while Russell Westbrook had 21 but both missed potential game-tying three pointers in the dying seconds.
Led by a 34-point performance from the NBA's leading scorer Kobe Bryant, the Los Angeles Lakers also extended their winning run to a season-high five games getting their record back to .500 (14-14) with a 100-94 win over the Knicks.
Playing in his record 15th Christmas Day game, Bryant passed Oscar Robertson as the NBA's all-time Christmas Day scorer with 383 points.
Steve Nash, playing his second game after missing nearly two months with a broken leg, was quickly back in stride hitting for 16 points while making 11 assists and grabbing six rebounds.
"I don't know if (Nash) is all of it, but he's maybe the last piece that makes it work," said Lakers coach Mike D'Antonio, explaining the Lakers turnaround.
"There are a lot of pieces that you have to have."
Metta World Peace chipped in with 20 points off the bench while Dwight Howard had 14 points and 12 rebounds and Pau Gasol 13 points, including a thundering dunk with 12 seconds to play that sealed the win.
Carmelo Anthony, who is second in league scoring behind Bryant, also had 34 points while JR Smith added 25 and Raymond Felton with 10 were the only other Knicks to hit double figures for the Atlantic division leaders.
The Boston Celtics had earlier kicked off the Christmas Day festivities with a feisty 93-76 victory over the Brooklyn Nets at the Barclays Center.
Rajon Rondo, who was ejected from an ill-tempered contest the last time the two teams clashed on November 28, scored a game high 19 points while adding six rebounds and five assists.
Rookie Jared Sullinger chipped in with 16 points off the bench while Kevin Garnett added eight points and was a force on the boards pulling down 10 rebounds.
"I think we are getting better, I think we're very, very close to becoming a good team but we're not there yet," said Celtics coach Doc Rivers.
Photograph: Mike Ehrmann/Getty Images