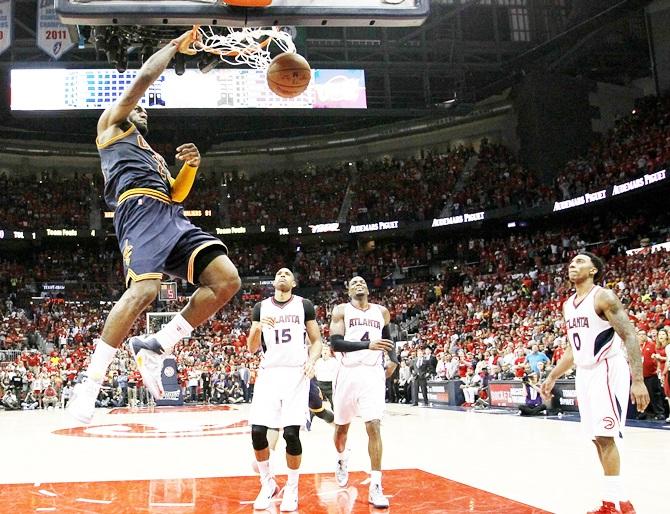 LeBron James of the Cleveland Cavaliers dunks against the Atlanta Hawks. Photograph: Kevin C Cox/Getty Images
The Atlanta Hawks suffered a double blow on Wednesday when they were beaten 97-89 by the Cleveland Cavaliers in Game One of the Eastern Conference finals and lost DeMarre Carroll to what looked like a serious knee injury.
JR Smith caught fire off the bench with 28 points, including eight three-pointers, and LeBron James tallied 31 points, eight rebounds and six assists as the Cavaliers grabbed the lead in the best-of-seven series.
Adding injury to the insult of dropping Game One on their home floor, the Hawks lost leading playoff scorer Carroll in the fourth quarter when he planted his foot and fell on a non-contact play.
Carroll was carried off and will undergo an MRI to reveal the extent of the damage on Thursday.
Jeff Teague had a team-high 27 points for the Hawks, while Al Horford added 16.
Atlanta battled to a 51-51 tie at halftime but lost control in the third quarter where the Cavs took a seven-point edge at the end of the period. Smith drained a trio of early three-pointers in the fourth to provide an 85-67 advantage that held up down the stretch.
Game Two is on Friday in Atlanta.