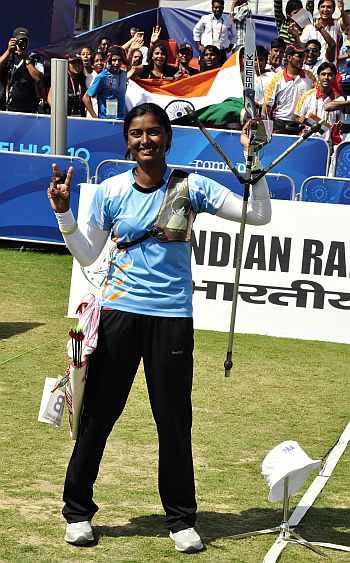 Top ranked woman recurve archer Deepika Kumari of Jharkhand created another national record when she shot 346 points in women's 50m round in the 34th Senior National Archery Championship at JRD Tata Sports Complex in Jamshedpur, on Tuesday.

World Cup silver medallist Deepika shattered the previous best by Olympian L Bombalya Devi (RSPB), who had shot 333 points out of maximum 360, at the 32nd Sahara Senior National Recurve and Compound Championship in January 2012.

Former Olympian V Praneetha (Gujarat) finished second in the event with 332 points, while Reena Kumari (Jharkhand) scored 322 to clinch bronze.

Deepika, who was in a fine nick in the championship, was also shooting the target well and was on the verge of making an overall championship record but for a mistake she committed in the FITA round, the archer lost her a medal in the 30m distance.

Following a shooting of six arrows in the event, Deepika removed them from the face (target) before the scorers could even record the points, which was in violation of FITA rule clause 14.2.1 and 17.1.1.

The Jharkhand archer lost all the points she scored with set of six arrows.

The competition Director, H L Jindal said as per the clause of the FITA Rule, no archers can remove the arrows or touch the face before the scores were recorded by the scorers. The violation of the rule may even disqualify the archer, he said, adding that Deepika had no option but to forfeit the points she earned.

Had she not committed the mistake, Deepika could have created a new record even in the overall championship in the FITA event, which will not take place from next year.

Earlier, Deepika has set up two national records in the in the 70m and 60m events of the FITA round on the opening day on Monday.

Meanwhile, Jharkhand dominated the proceedings to top the medal chart with five gold, two silver and one bronze in the championship, while Services Sports Control Board (SSCB) was
in second place with two gold and two silver.

Delhi with one gold and one silver finished third followed by Gujarat with a gold, two silver and a bronze.

In the women's 30m distance, Praneetha emerged champion after she scored 349 points, pushing Seema Verma (347 points) of UP to second place. Asha Rani Horo (Jharkhand) finished third with 346 points.

In a closely fought men's 30m distance, Olympians Jayanta Talukdar faced tough challenge from Tarundeep Rai (SSCB) but Talukdar emerged winner after scoring 355 points.

Rai, meanwhile, earned 354 points and Hurdup Tiriya (SPSB) claimed third place.
Image: Deepika Kumari