Former coaches say that it will be a tough call.
The WFI faces the tedious dilemma of youth versus experience, rising star up against the country's most celebrated athlete.
Dhruv Munjal reports.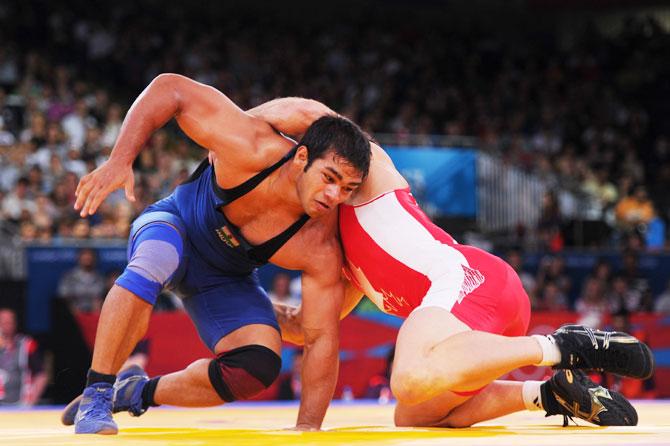 IMAGE: Narsingh Yadav competes in the Men's Freestyle 74 kg wrestling event at the 2012 Olympic Games. Photograph: Michael Regan/Getty Images
The feud between Narsingh Yadav and Sushil Kumar for an Olympic wrestling berth has turned ugly, with neither man ready to cede ground.
In a hall packed with wrestlers, it is often easy to miss Narsingh Pancham Yadav. In a grappling sense, the stocky Yadav is a physical colossus -- power and grit in plenty. His persona, though, is like that of a dressage competitor desperate to impress the judges: Bashful and uncomfortably quiet.
When the Indian wrestling brigade is put through its paces at Sonepat's Chaudhary Devi Lal Northern Regional Sports Centre during the off-season, Yadav is like the perennial back-bencher almost too reluctant to show his teachers how good he actually is. Just that now he finds himself at the forefront, and in glaring focus.
"I am the best that India has to offer in the 74 kg category. So, it's only logical that I be sent to the Olympics," Yadav says bluntly.
When the 26 year old unfathomably turned around an eight-point deficit to overcome France's Zelimkhan Khadjiev at the World Championships in Las Vegas last year to clinch bronze, it was the realisation of a dream, one that would send him to the Olympic Games for the very first time. Now, that dream is in unforeseen jeopardy.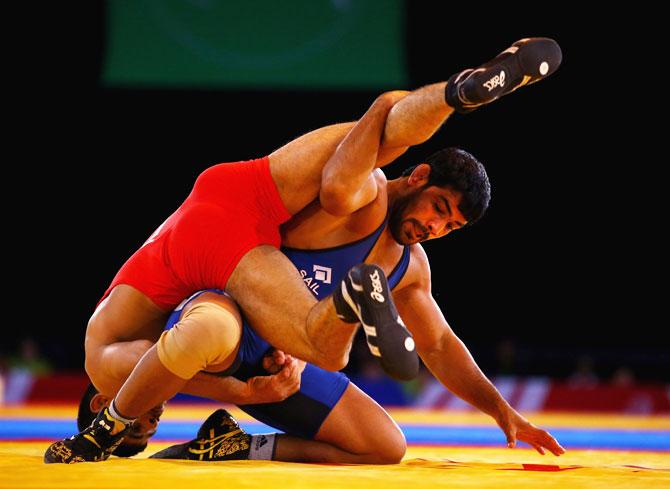 IMAGE: Sushil Kumar in action. Photograph: Richard Heathcote/Getty Images
Earlier this week, Sushil Kumar -- the two-time Olympic medallist staking claim to Yadav's berth -- was omitted from the list of probables handed over to the Indian Olympic Association by the Wrestling Federation of India. In an act of obvious damage control, the federation later denied dropping him from the list.
According to Olympic rules, a world championship medal ensures a berth for the country in a particular category, not the individual wrestler. However, it is seldom the case that the wrestler who has won the medal is replaced by someone else for the Olympics.
With Sushil taking on the national association and even threatening to move court, such an aberration is taking the shape of a startling and maybe unfair reality.
"Sushil wants the association to conduct trials. But why? Yadav has won a world championships medal and he deserves to go. It's that simple," says a former national coach, on the condition of anonymity.
Yadav argues that performances win you medals, not big names.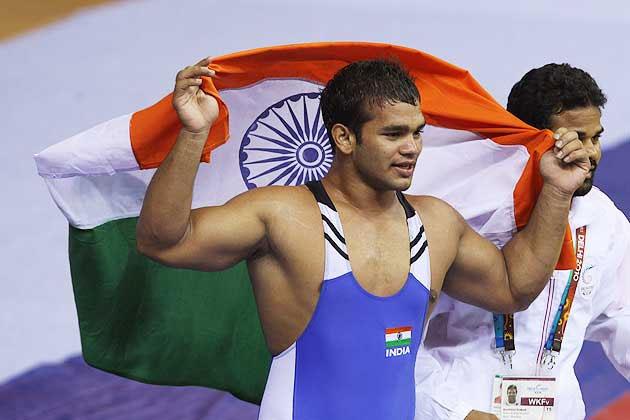 IMAGE: Narsingh Yadav's fitness and results have improved over the last couple of years, according to former national coach Vijay Kumar. Photograph: Getty Images
"You go by form, not past credentials," he says.
And, it's difficult to not nod in agreement with the Mumbai grappler.
In the last two years, Yadav -- in addition to his third place finish at the Worlds -- has won medals at the 2014 Incheon Asian Games and the 2015 Asian Championships in Doha.
For someone who struggled with consistency early on in his career, and agonisingly found himself stuck on the periphery, Yadav has transformed himself into a fighter who so effectively combines robustness with technique.
Against Khadjie in Las Vegas, Yadav, much to the astonishment of the crowd, employed the 'Dhak,' a showboating technique generally used only in dangal wrestling.
Vijay Kumar, former national coach, says that Yadav has undergone huge change in the last couple of years.
"He has come on really well. Both his fitness and results have improved."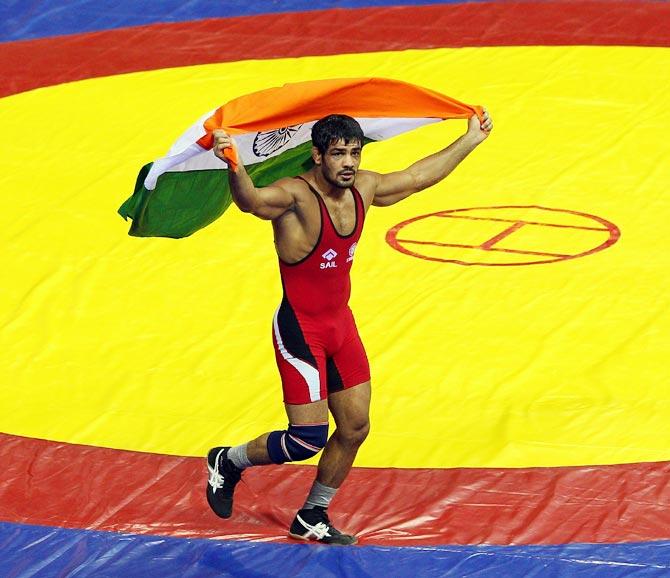 IMAGE: Sushil Kumar celebrates his gold in the 66 kg at the Commonwealth Games in New Delhi. Photograph: PTI
Sushil, meanwhile, has spent the last two years in the confines of the gym and has been sweating it out only on training mats.
After mightily sweeping to gold in the 74 kg category at the 2014 Commonwealth Games in Glasgow, Sushil has spent much of his time in tournament exile.
At 32, injuries have also piled up -- the major one a worrisome shoulder problem that has kept him out for the last year.
"Sushil wants to compete only on the basis of reputation. There is no doubt about his greatness and if there is a bout, he may actually end up beating Yadav. But performances should be judged over a period of time," says another former wrestler.
Even if Sushil somehow manages to make it to Rio de Janeiro, the hopes of winning a medal are remote.
Going into an event like the Olympics -- even for former medallists -- without competing in major tournaments is a precarious proposition that comes up with the potential of ending in embarrassment.
It is not uncommon for athletes to take a break in the year running up to the Olympics.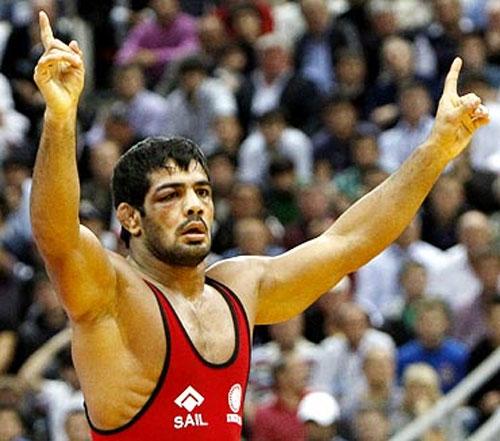 Usain Bolt hasn't run a 100m race for almost a year now, British heptathlete Jessica Ennis-Hill hasn't even set foot on the track this season. Yet, the two remain overwhelming favourites to retain the titles they won so convincingly four years ago in London.
But that is partly because both of them won gold at the World Championships in Beijing last year. Moreover, they have age on their side.
As questions about his fitness mount, Sushil's coaches say that he is the fittest he has ever been. "Sushil is in top shape. He has been working very hard for the past two years. He can take on anybody," says Satpal Singh, the grappler's long-time coach.
In international wrestling circles, Sushil's fitness regime enjoys legendary status; one that fellow wrestlers have fervidly tried and then wretchedly failed to replicate. But here, he is being confronted by a younger wrestler who seemingly looks in better shape.
Former coaches say that it will be a tough call. The WFI faces the tedious dilemma of youth versus experience, rising star up against the country's most celebrated athlete.
For Yadav, a passage to Rio means that he will have to somehow thwart -- on the mat or off it -- the very man whose pictures bedeck the walls of all stadiums he has trained at all his life.
This is far from a calculated wrestling bout that one would like to see. It's more like a sinister slugfest, with no clear winner in sight.