Narain Karthikeyan shrugged off the qualifying issues to record a superb win in the penultimate race of the AutoGP season, taking the championship fight the final race.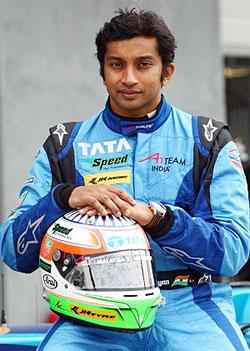 Narain had to start third on the grid after an untimely red flag forced him to abandon a flying lap that would have otherwise been good for pole position, on Friday.
Narain drove a flawless race, controlling the pace and driving to the limits of his tyres, as he had started the race on used tyres in a bid to save a fresh set for the reverse grid race two.
After this win, Narain now has 195 points, 15 behind SuperNova teammate Vittorio Ghirelli in the title standings.
Narain now has scored maximum number of wins (5) and pole positions (4) in the 2013 season.
"We were keen to make amends today and ensure that we take the title fight down to the last race," Narain said.
He will start eighth in the reverse grid on Sunday, which means clinching the title will be an uphill task as Narain not only needs to win the race but title rival Ghirelli has to finish sixth or lower in order for Narain to secure the crown.
"Honestly there a very little chance but all I can do is get the best result tomorrow and see what happens. We have a set of new soft tyres saved and we intend to make the best of it," he said.