Napoli president Aurelio De Laurentiis knows "very little" about soccer and has a lot to learn about the game, said Roberto Donadoni, who was sacked as the Serie A club's coach on Tuesday.
Colourful president De Laurentiis, a film producer, re-formed the Naples club after bankruptcy in 2004 and dragged them back into the top flight.
"He is a volcano who knows very little about football," Donadoni was quoted as saying in Wednesday's La Gazzetta dello Sport.
"He has a lot to learn, which is as it should be. He is not in contact with the team enough."
Donadoni sacked by Napoli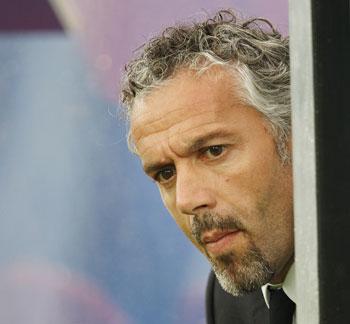 Donadoni was replaced by former Sampdoria boss Walter Mazzarri following his side's failure to pick up any points from their four away games this season.
He had only been in charge for seven months, having returned to club management with Napoli in March after losing his job as Italy coach following poor displays at Euro 2008.
De Laurentiis told reporters on Wednesday that former Reggina executive Riccardo Bigon would be the club's new sporting director after Pierpaolo Marino left last week.
"It is a necessary decision to give a new impulse to our season," the Serie A club's president Aurelio De Laurentiis said in a statement.
Donadoni, dismissed as Italy coach after their poor displays at Euro 2008, returned to management with Napoli in March but has paid the price for four away games without a point this season.
Fans were frustrated by his tactics and there were reports of discontent among the players.
De Laurentiis spent more money than most in the transfer window and 15th place after seven games was not deemed good enough.
He had also criticised Donadoni in the media in recent weeks and his departure looked inevitable
He was annoyed with the quality of players brought in and some who were let go, first clashing with sporting director Pierpaolo Marino who left last week.
Donadoni was next in the firing line with De Laurentiis giving him Sunday's game at AS Roma to save himself. A 2-1 defeat against an injury-hit Roma sealed his fate.
The former Italy and AC Milan midfielder only had limited coaching experience before succeeding Marcello Lippi as boss of the world champions in 2006 and his career has nose-dived since.
Mazzarri led stylish Sampdoria to sixth place in 2008 in his first year in charge but last season they limped home 13th in Serie A and he was replaced by Luigi Del Neri who has taken them to the top of the standings.
Mazzarri was previously assistant coach at Napoli in 1998.
Media reports had linked former Inter Milan coach Roberto Mancini with the Napoli role, one of the most demanding in Italian football given the fervent support the club receives from the population of the country's third biggest city.
Scudettos with Diego Maradona in 1987 and 1990 were followed by years of woe but De Laurentiis's money has led fans to expect European qualification at least.