World No 3 Rafael Nadal admitted that he may not play in the upcoming Australian Open after suffering a shocking first round defeat against Germany's Michael Berrer at the Qatar Open.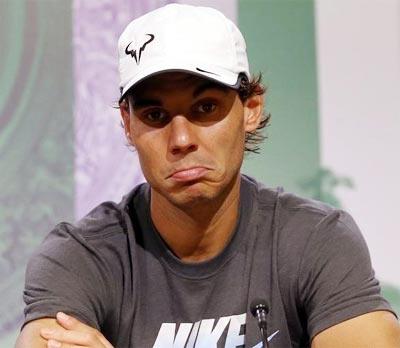 Nadal, who recovered from a wrist injury and then appendicitis, started his 2015 campaign on a losing note as he suffered a 1-6, 6-3, 6-4 defeat against Berrer. Nadal couldn't capitalise on a strong start as a resilient Berrer powered through to enter the second round.
- Qatar Open: Nadal comeback ends in loss to German journeyman
The Spaniard said that he wanted to play in the Australian Open, adding that he didn't know if that would be the case either, but he was going to work for it, the Sydney Morning Herald reported.
He further said that the season was long and after coming back from injury one cannot see the immediate moment as one has to look further ahead a little bit.
Admitting that there is a possibility he might lose in the Australian Open, he said that at present he has to practice well and try to be ready for Australia, however, he said that he know he could go there and lose too.
Image: Rafael Nadal of Spain

Photograph: Scott Heavey/AELTC/Pool/Files/Reuters