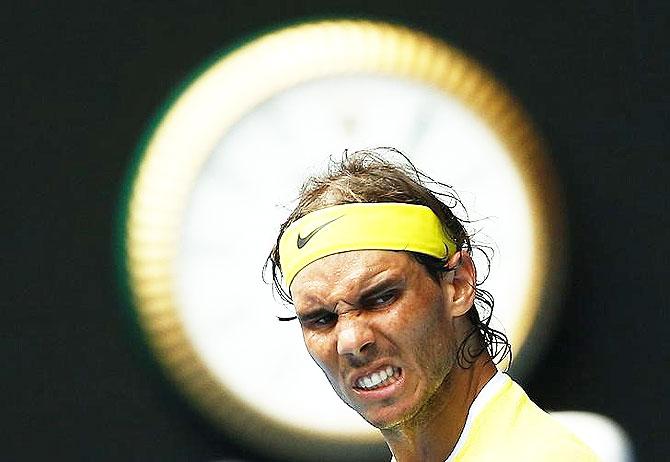 IMAGE: Spain's Rafael Nadal. Photograph: Thomas Peter/Reuters.
Spanish tennis maestro Rafael Nadal has defended his training methods and outrightly rejected to have used any banned substance in order to speed up his recovery from injury.
The speculations that Nadal had used performance enhancing drugs came after Maria Sharapova admitted that she had failed the drug Test at Australian Open in January.
Describing himself as a 'clean' player, the 29-year-old said that he never had the temptation of doing something wrong, insisting that he was extremely far from indulging in doping.
The 14-time grand slam winner said that he had become a bit tired of allegations against him and pointed out that he sees himself as an ambassador of tennis who would never tarnish the image of the sport.
However, Nadal said that Sharapova, who announced that she was tested positive for a drug test at the Australian Open, should be punished as an example to others, Sport24 reported.
Nadal, who will now play in the BNP Paribas Open at Indian Wells, admitted it was difficult to imagine that the Russian player had done something like this, but added that she should pay for it even if it was a case of negligence.
Sharapova also received a provisional ban after she tested positive for meldonium, a substance she has been taking since 2006 for health issues.
Sharapova had admitted that she made a huge mistake, but insisted that she failed to look at the new list of prohibited items from WADA for 2016.