'It was the Rafa I was expecting. We saw how he has been playing since the beginning of the season -- fit, aggressive, his level has been incredible'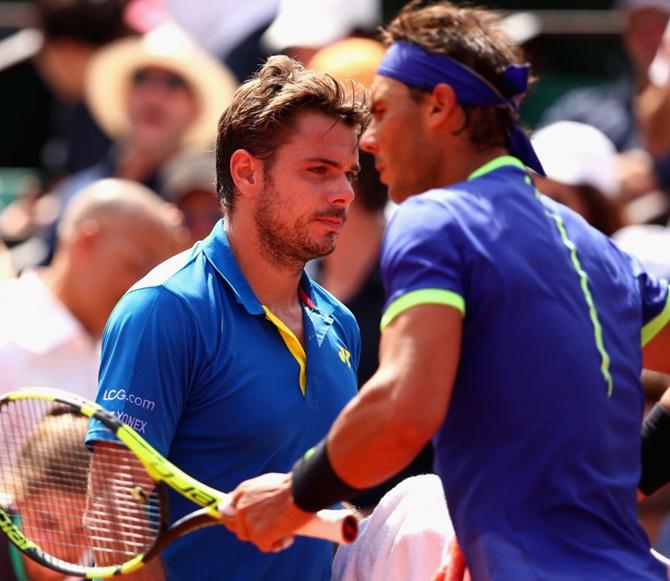 IMAGE: Stanislas Wawrinka of Switzerland crosses paths with Rafael Nadal of Spain. Photograph: Clive Brunskill/Getty Images
Until Sunday, Stanislas Wawrinka had an unblemished record in Grand Slam finals -- but then he had never faced Rafael Nadal in the Spaniard's favourite arena, Court Philippe Chatrier at the French Open.
The Swiss, who beat Nadal in the 2014 Australian Open final, was dismantled 6-2, 6-3, 6-1 on Sunday as Nadal won his 10th Roland Garros title.
"He's playing the best he's ever played," the third-seeded Wawrinka told a news conference after watching Nadal collect the trophy, "He's the best ever on clay; it's always a tough challenge."
Wawrinka, the French Open champion in 2015 when Nadal lost to Novak Djokovic in the quarter-finals, said the Spaniard had lived up to his expectations on Sunday.
"It was the Rafa I was expecting. We saw how he has been playing since the beginning of the season -- fit, aggressive, his level has been incredible," said Wawrinka.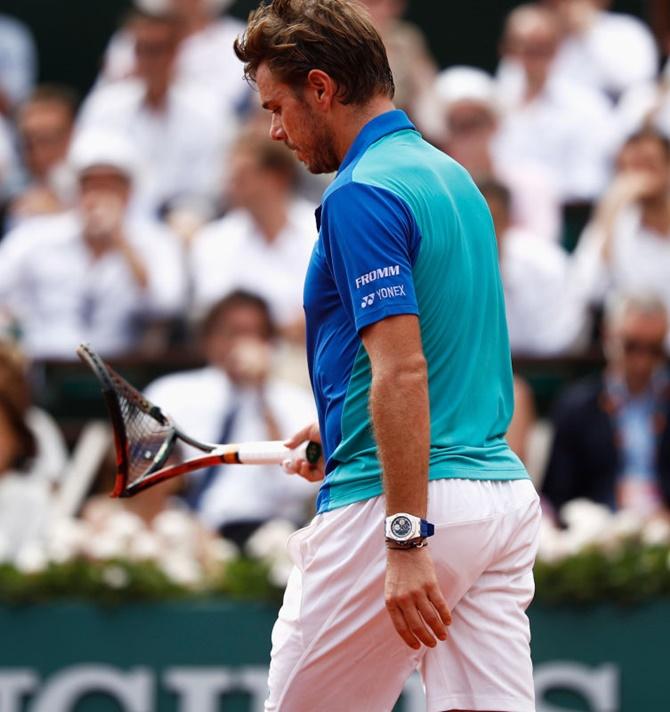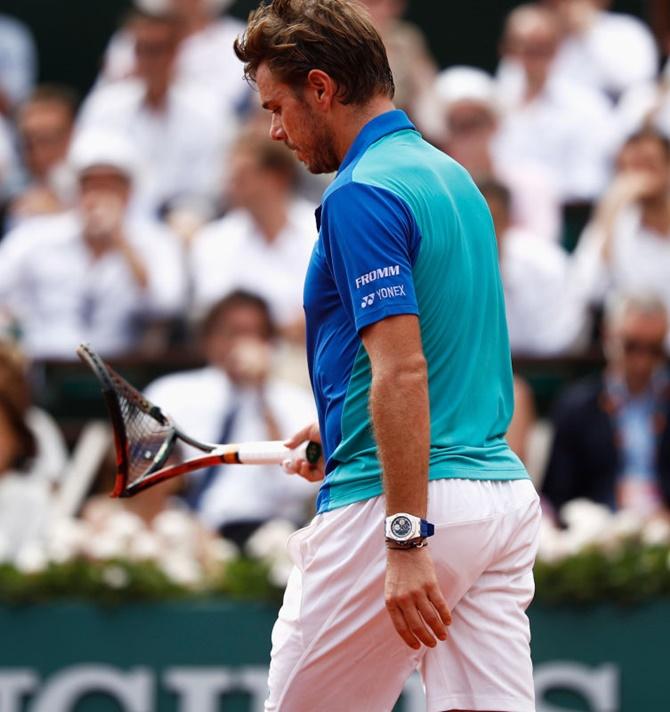 IMAGE: Stanislas Wawrinka of Switzerland holds his broken racquet after he reacts. Photograph: Adam Pretty/Getty Images
The 32-year-old Swiss had only one break point, early on, and then never threatened Nadal and he blamed himself for being too hesitant.
"When you hesitate on how to play a ball, your legs move later and it's too late. You have to be able to play without thinking. If you hesitate for half a second, it's already too late.
"If you're not completely free... you don't want him to take the lead and play even more freely," said Wawrinka, who became U.S. Open champion last year.
"At the end of the day it was three sets, nothing to say. I can talk about the game, about what I did, about what he did, but at the end of the day it's quite clear."
Wawrinka, however, took positives from the tournament as he had been on the comeback trail after a first-round loss in Madrid and a second-round defeat in Monte Carlo.
He entered the final on an 11-match winning streak following his title in Geneva.
"It was an amazing tournament. Today I lost the final but three weeks ago I was feeling down, I had doubts about my game," said Wawrinka.
"Then I won Geneva and I reached the final of a Grand Slam. That's big for me but I will need a few days to really see that."