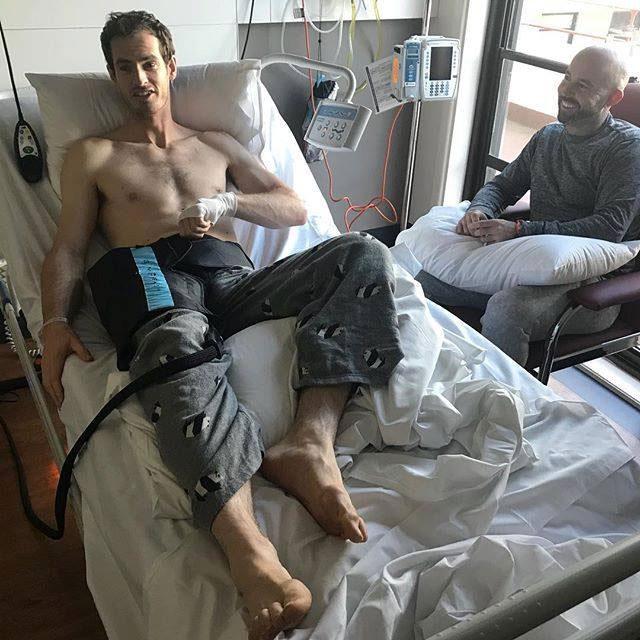 IMAGE: Andy Murray is all smiles as he recuperates in hospital post his right hip surgery on Monday. Photograph: Kind courtesy, Andy Murray/Facebook
Former World No 1 and three-time grand slam champion, Andy Murray was successfully operated upon for a hip injury on Monday.
The Briton took to his Facebook page update his fans on the state of his health and said he hopes to return in the summer.
"Today I underwent successful right hip surgery at the St Vincent Hospital in Melbourne. I'd like to thank Dr John O'Donnell and all of the staff for looking after me. I look forward to returning to competitive tennis during the grass court season. Thanks to everyone for all the well wishes and support over the last few days. I'll comeback from this," he posted on his Facebook page with a thumbs up.
In another post, along with a photo of him after surgery, Murray wrote: "I'm feeling really positive and looking forward to starting rehab. Thanks to everyone for the well wishes and support the last few days. It really helps."
Murray pulled out of the Australian Open on Thursday having failed to recover from the hip injury that had dogged him since the summer of 2017, following his quarter-final exit at Wimbledon in July.
The 30-year-old, who ended 2016 as world number one, has slipped down to 19th in the rankings.
"I'm not finished playing tennis yet. I'm going to be competing at the highest level again," Murray, talking from his hospital bed, was quoted as saying by British media.
"I'm very optimistic about the future -- the surgeon is very happy about how it went."
Murray is expected to return home in a week or two to continue his recovery and rehabilitation.
While he faces the possibility of almost a year out in total, Murray says if he can return to 95 percent of his best he can still compete for the game's biggest prizes.
"The surgeon felt that my hip will be feeling better than it did a year ago," Murray said. "Obviously, I was still doing fine a year ago -- I was ranked number one in the world.
"I'm certainly not going to be putting in the same amount of tournaments and effort to try to get to number one in the world.
"I'll be playing a reduced schedule, and then focusing more on trying to win major events and big tournaments rather than trying to achieve certain ranking goals.
"So if I can get myself to 95 per cent of my best, I believe that's enough to compete at the highest level. No question."
Former world number one Boris Becker believes a "100 percent comeback" is possible for Murray, although the German says he might be regretting leaving the surgery so long.
Murray had hoped to avoid going under the knife, saying it would not necessarily achieve a positive outcome, but finally decided it was his only realistic option because he had been in constant pain for six months.
"With a good surgery and a good recovery a 100 percent comeback is more than possible," Becker, who will be working as a Eurosport analyst at the Open, told Reuters.
"Lleyton Hewitt had it, Tommy Haas had it, just to mention a few who came back and played strong. I just wish that he had done it earlier.
"Hindsight is always easier. He tried the conservative route but came to the conclusion that the only way back was surgery. If he had done it earlier he could have been back earlier."