The Government of Maharashtra has cancelled the 15-year lease of the Mumbai Hockey Association and asked it to vacate the premises currently occupied by them.
MHA officials, meanwhile, are trying to meet Chief Minister Prithviraj Chavan to rescind the order.
"We received an order signed by Maharashtra government's Deputy Secretary (Sports), Satish Jondhale, dated 17th October, saying that the 15-year lease granted to us in 2008 has been cancelled," MHA secretary Ram Singh Rathor said, adding that they got the order in hand only on October 19.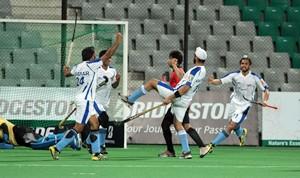 "The reason cited was that three months ago some former players had met (then) Deputy CM Ajit Pawar and complained that we are not promoting hockey, but are letting out our premises for weddings, receptions etc… It's a total misrepresentation of facts by these players," Rathor said on Tuesday.
"We have not been given a chance to explain our point of view as per the principles of natural justice and the lease has been cancelled without hearing us. We are now trying to meet the CM to deal with the development, which was totally unexpected," he added.
Strangely, the letter was dated two days after the MHA had conducted a tournament for boys and girls on behalf of the state government.
"We held the state under-17 Nationals for boys and girls at our ground between October 11 and 15. The event was conducted by the District Sports Officer, Government of Maharashtra," Rathor claimed.
According to Rathor, the former players had met Pawar, who has since quit his post, and "misrepresented" that MHA was holding functions other than hockey at the ground.
"We hold these functions on the outside area of the ground and not on the ground, at what can be called parking area, to generate funds to run our association," Rathor informed.
He said the MHA will have no other alternative but seek intervention of the court if the state government does not change its decision to cancel the lease.