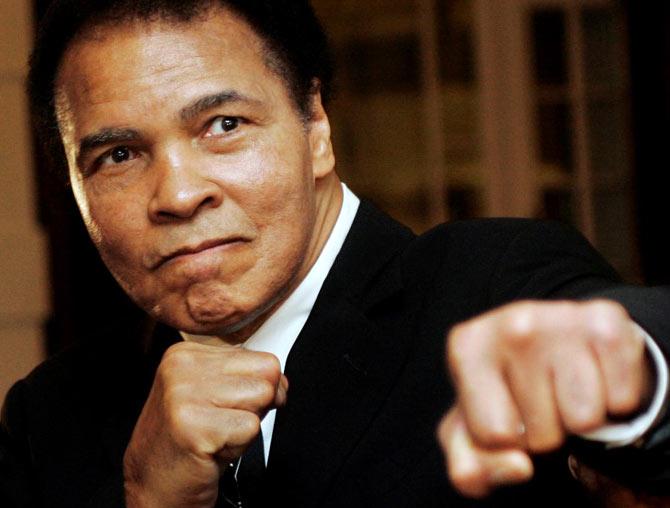 IMAGE: Muhammad Ali poses at the 2006 World Economic Forum in Davos. Photograph: Andreas Meier/Reuters.
No matter how many records he may have achieved in his glorious career, batting legend Sachin Tendulkar's will always regret about one of his unfulfilled dream-meeting his childhood hero, Muhammad Ali.
Ali passed away at the age of 74 after losing his long-standing battle against Parkinson's disease on Saturday.
The Master Blaster took to his Twitter handle to pay rich tributes to Ali, one of the most loved sportsmen in history.
"My hero since childhood. I always had a wish to meet you some day but now it will never happen. RIP "The Greatest"," Tendulkar tweeted along with a picture of Ali.
Born as Cassius Clay on January 17, 1942 before converting to Islam, the legendary boxer is survived by his nine children, including daughter Laila, who like her father became a world champion boxer; and his fourth wife, Lonnie.
In 1960, Ali won an Olympic gold medal as a light-heavyweight boxer.
The former three-time world heavyweight champion, who was admitted to a hospital in Phoenix, the United States, with a respiratory problem, breathed his last surrounded by his family and friends.
Ali took retirement from his illustrious career after a defeat against Trevor Berbick in 1981.