Celebrated boxing trainer Angelo Dundee, Muhammad Ali's cornerman in his greatest fights, died on Wednesday at the age of 90.
"Angelo died surrounded by family and friends," his family said in a statement. "He was very happy that he got to celebrate Ali's birthday earlier this year and also that he got to go to the (Hall of Fame).
"He still had much to do, but, led a full and extraordinary life."
Noted for his ability to motivate and challenge the best of boxers, Angelo passed away at his home in Tampa, Florida.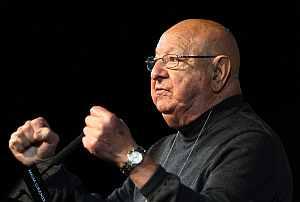 While working with Ali for the majority of the boxing great's career, Dundee trained 15 world champions in total, including Sugar Ray Leonard and George Foreman.
One of the more indelible memories of Dundee's career came in 1981 when he loudly exhorted Leonard in the late stages of a championship fight against Thomas Hearns.
After famously telling the fighter, "You're blowing it, son," Leonard came back out to register a thrilling knockout after having been dominated in preceding rounds.
Dundee's work spanned six decades and he was inducted into the International Boxing Hall of Fame in 1994.