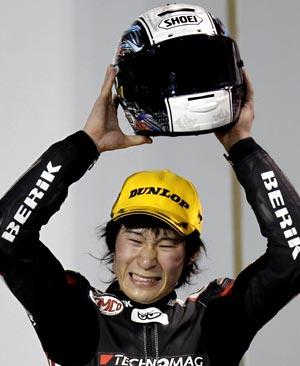 Nineteen-year-old Japanese Moto2 rider Shoya Tomizawa has died after a crash during Sunday's San Marino Grand Prix, the second death in the sport in two events.
Doctor Claudio Costa, part of the motorcycling world championship's medical team, told reporters the news.
Riders in the premier MotoGP class were also informed after their race, won by Dani Pedrosa.
"I found out now, when things like this happen nothing else matters," world champion Valentino Rossi told Mediaset television. "He was a lovely guy, it was a horrible accident."
Suter's Tomizawa was travelling at full speed when he fell off before a corner and was hit violently by the bikes of Alex De Angelis and Scott Redding, who both also tumbled but looked relatively unhurt.
A 13-year-old also died in a minor race before the Indianapolis MotoGP in the sport's last Grand Prix in August.
Motorcycling has always been among motorsport's most dangerous pursuits given riders are often thrown from their bikes and run the risk of hitting objects or being struck by other riders.
HUGE SPEEDS
"You forget sometimes how easily something like this can happen. Sometimes our sport is just too dangerous," MotoGP rider Andrea Dovizioso said.
Moto2, the new name for the former 250cc category below MotoGP, still generates huge speeds and officials said they decided to continue with the race after the crash because of the fear of other accidents if a red flag was suddenly shown.
They added that Tomizawa was alive when he was taken from the track and rushed to a local hospital on Italy's east coast. He was pronounced dead soon after.
The official news of his death had not filtered through before the start of the MotoGP race so the event went ahead.
Rossi, who suffered a broken leg in an accident before the Italian Grand Prix in June, led riders in a tribute to another dead Japanese colleague Daijiro Kato earlier in the week in a ceremony at Misano.
Kato, who lived in the Misano area, died after an accident at the Japanese Grand Prix in 2003.
Rossi has worked hard with other riders to try to make the sport safer but has said there is a limit to how much they can do.