Twenty-seven top male and female triathletes, who have already qualified for the 2008 Beijing Olympics, are in the field for the triathlon event of the fourth Military World Games (MWG), to be held at Mumbai's Girgaum Chowpatty, on October 21, 2007.
Competitions will be held in individual and team (men's and women's), apart from a mixed team, events (three male and two female participants).
The triathlon involves three events (1.5 km sea swimming, followed by 40 kms road cycling and 10 kms road running), the total race distance is a gruelling 51.5 kms.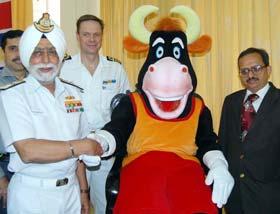 Mumbai will also host the Enterprise Class sailing competitions at the Indian Naval Watermanship Training Centre, Pilot Bunder, Colaba, from October 14-21.
The Indian Navy will organise both disciplines, announced Vice-Admiral J S Bedi, Flag Officer Commanding-in-chief, Western Naval Command, adding the triathlon will have 89 male and 34 female triathletes.
India is fielding an eight-member squad -- four triathletes (Sunil Bhise, Mani Singh, Jagdeesan, Akhil Sheikh, Vikas Shelke) and three coaches (Bhim Singh, Kaptan Singh and Nirmal).
The five-member Indian sailing squad for the Games, featuring military sportspersons from 33 nations, will comprise sailors R Mahesh, G L Yadav, A Arvind (reserve), R S Dhulaji (captain) and Balraj (trainer/coach).
Lt Col R D Singh of Bombay Sappers, trainer of the Indian Armed Forces triathlon teams and Captain Homi Motivala, India's only Arjuna, Dronacharya and Rajiv Gandhi Khel Ratna awardee, are in charge of triathlon and sailing competitions respectively, informed Captain (IN) Abhay Lambhate, Chief PRO, Defence Ministry, during a media briefing at the Western Naval Command Officers' Mess, Colaba.
The elite triathletes who have already gained Olympic qualification and will compete in Mumbai, represent Germany, Russia, Italy, USA, France, Belgium, Austria and China.
Germany's Stefen Justus and Joelle Franzmann are rated the best on the basis of Beijing qualification.
 The fourth MWG, from October 14-21 at Mumbai and Hyderabad, is being held outside Europe for the first time, the earlier venues being Rome (1995), Zagreb, Croatia (1999) and Catania, Italy (2003). Pakistan declined to take part, informed Vice-Admiral Bedi, even after invitations were sent.
Counsel International du Sport Militaire (CISM)'s Vice-President, Navy Captain Bengt Nylander, said: "It is sad that we could not get all nations to take part. Countries at conflict have taken part at previous Military World Games because we are soldiers for peace."
CISM, headquartered in Brussels, commands a membership of 128 nations and conducts championships in 20 disciplines annually, apart from MWG every four years.
Rio de Janeiro, Brazil, will host the next MWG in 2011, selected by the CISM members ahead of Ankara (Turkey) and Islamabad (Pakistan), informed Nylander.
Photograph: Mascot 'BRAVO' with Vice Admiral J S Bedi, Flag Officer Commanding-in-chief, Western Naval Command at the fourth Military World Games briefing in Mumbai. Also in picture are Bengt Nylander (Vice President, CISM), J. M. Pathak (Commissioner, BMC) and K. L. Prasad (Jt. Commissioner, Law & Order).