Indian athletes will begin their campaign in the World Championships, in Beijing, on Sunday
Inderjeet Singh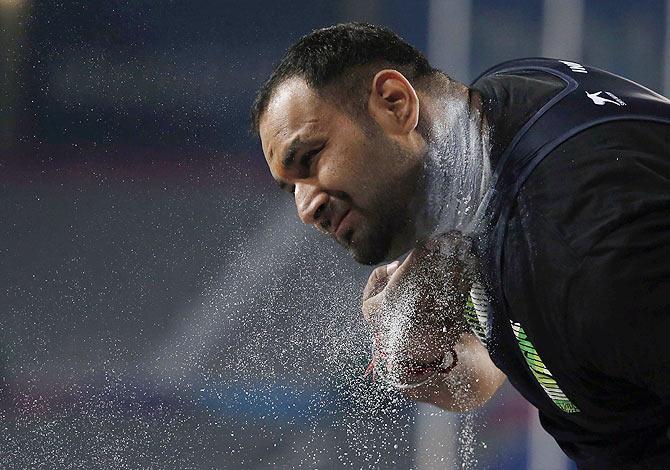 India's Inderjeet Singh chalks his neck as he competes in the men's shot. Photograph: Jason Reed/Reuters
Shot putter Inderjeet Singh will be facing the severest test of his fledging career.
PHOTOS: Favourites cruise at heats on opening day at worlds
Can the in-form Gatlin beat sprint king Bolt at World Championships?
FIVE women to watch out for at world athletics championships
The 27-year-old Indian tossed the iron ball to a personal best of 20.65m during Federation Cup at Mangalore and attained both World Championships and Rio Olympics tickets.
The above performance is matching with the cut-off mark, set by the International Association of Athletics Federations (IAAF) for throwers to enter the final round in Beijing. The Asian champion and World University Games gold medalist has been in an impressive run of form in the recent months but World Championships will be a completely different ball game and he will have to surpass his best to even make it to the finals.
Vikas Gowda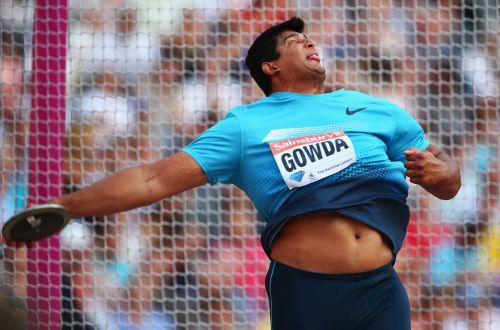 Vikas Gowda in action. Photograph: Paul Gilham/Getty Images
Vikas Gowda will once again be the one on whom India will be banking upon for a best finish, if not a medal. The national record holder Indian has competed in the most number of top flight events this year, having taken part in a few legs of the Diamond League series, even winning a bronze in Shanghai in May. He will have both his qualification and final round events on August 27.
Tintu Luka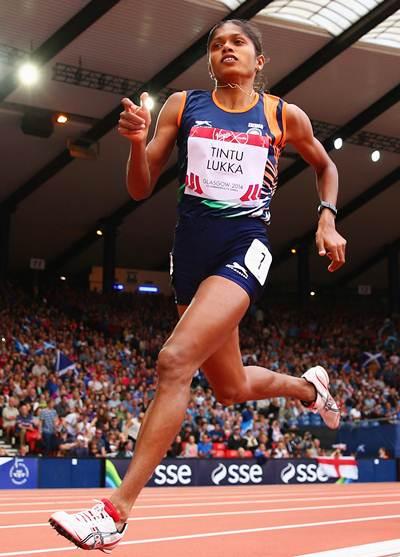 Half-miler Tintu Luka will be making her second appearance at the World Championships (after her first in 2011) and will try her best to attain the Rio Olympics qualification. Ranked 10th among the list of athletes entered in Beijing, the best among the Indian team members, Tintu has every chance to make it to the final although getting a medal could be a remote possibility for the prodigy of legendary P T Usha, who will also be by her side.
Three 20km race walkers will seek to post their personal bests on the second day of competitions.
Baljinder Singh, Chandan Singh and Gurmeet Singh will be the Indian faces in men's 20km race walk, the starting event for Indians early morning on Sunday.
Gurmeet Singh, double Asian championships medallist in 2012 and 2013, has been listed 27th among 62 entered in the event. The Indians will try their best to gain a place among the top-10 in a strong field.
India will be fielding three athletes in marathon for the first time at a global competition with O P Jaisha, Lalita Babar and Sudha Singh taking part. Lalita will also run in her pet 3,000m steeplechase event.
Jaisha had erased the 19-year-old Indian record while finishing first in the Indian category of Mumbai Marathon earlier this year.
Asian Games silver medallist Khushbir Kaur and National Games victor Sapana will be representing India at women's 20km race walk.
In women's 4x400m relay race, India are ranked 14th among 16 teams on the strength of their performance in last year's Asian Games (3:28.68). With Brazil and Germany doubtful to enter their teams, India now moved to 12th place and a clear tactical approach will be necessary to qualify for the final round.
India have named just five runners, including 800m runner Luka, for women's 4x400 relay after the selection committee of the Athletics Federation of India refused to include Priyanka Panwar as the sixth member.