'We are seeing someone who belongs at the top and will keep improving'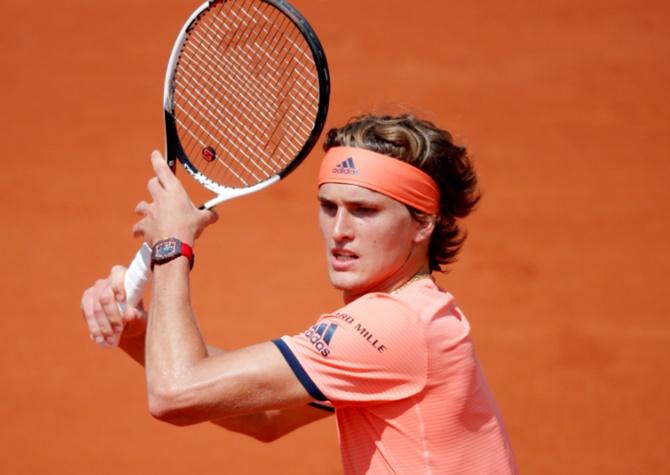 If Mats Wilander is to be believed, Alexander Zverev is a potential superstar who bears comparison not only with his fellow German Boris Becker but also the great American singer Bob Dylan.
The 21-year-old has yet to make it past the last 16 at a Grand Slam, but three-times French Open champion Wilander believes Zverev possesses something most players tipped as successors to Roger Federer and Rafael Nadal do not have - including Austrian Dominic Thiem.
"He's a superstar. The difference is that (Grigor) Dimitrov, (Milos) Raonic, (Kei) Nishikori, have a record of something like one win and 12 losses against Nadal, against Federer, and they have played maybe 30, 40 Grand Slam tournaments and the winner has been Roger Federer or Rafael Nadal while Zverev has played less (12) so he hasn't experienced the locker-room with Nadal winning, Federer winning," Wilander, Eurosport's leading tennis consultant, told Reuters.
"Thiem is not at all like that. (Zverev) is a mini Boris," he added, referring to Becker who won six Grand Slam titles between 1985 and 1996.
"Thiem doesn't have 'it'. Zverev has. Thiem I think has experienced it (Nadal and Federer winning) too much as well but these young guys, (Stefanos) Tsitsipas, (Denis) Shapovalov -- don't have any fear. Shapovalov doesn't worry about Nadal, Zverev is the same, I think that's their biggest advantage, they haven't been beaten up so many times."
The lanky Zverev dug deep on Wednesday to reach the third round in Paris against Serbian Dusan Lajovic, coming from behind to secure a five-set victory.
"He will feel that he was that close to go out so potentially that could have been the most important match of his career so far today," said Wilander, who believes Zverev has what it takes to win more than 10 majors.
"He came in as second seed and was struggling a bit against a player who mixed it up nicely, and he figured it out. He thought his way through and won convincingly in the last two sets and that's what you look for in a future superstar and Grand Slam champion."
"I think today he delivered. I would rather him win a match like that today than in three easy sets because that wouldn't tell me anything. When you pull that out like that today, that tells me we are seeing someone who belongs at the top and will keep improving."
According to Wilander, Zverev has improved massively since his third-round exit at the Australian Open.
"It's night and day," the Swede said, adding that Zverev's creativity should be preserved.
"He's growing every day. Zverev made the important decision to let go of the super coach, Juan Carlos Ferrero. Young players like them, like Boris or Nadal was, you cannot try and tell these young players how they should play," he explained.
"It's like telling Bob Dylan how to sing country music. He went his own way. Zverev is going to go his own way. He is on a path that no one else has ever been on and that's the way to go."