Maxi Rodriguez said his granddad's coaching had helped him develop the technique he showed when scoring a superb World Cup winner for
Argentina against Mexico
.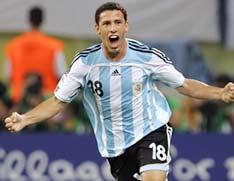 Midfielder Rodriguez unleashed a dipping left-footed volley from 25 metres into the top far corner in extra time to give Argentina a 2-1 win in Saturday's second round match in Leipzig.
"My granddad always told me to try to hit the ball with both feet, but I nearly always go with the right. I've got the left one, as they say, to get on the bus," Rodriguez told a news conference at Argentina's World Cup base.
"My granddad always took me to training at Newell's (Old Boys) and taught me a bit of everything, like all grandfathers, like all fathers," the 25-year-old said.
Rodriguez said that when the ball hit the net he felt a sense "of craziness, a lot of adrenaline.
"You never imagine scoring a goal like that and even more so with your left foot. If you said with my right, maybe, but it happened with the left.
"And when it went in and in such a tense match and the winning goal I felt a lot of emotion and joy because the team deserved to keep going (in the tournament)," he said.
Argentina meet hosts Germany in the quarter-final on Friday.
NO TIME
Rodriguez said he had no time to think about what he was going to do with the ball which came to him as a high cross-field pass from left back and captain Juan Pablo Sorin and which he took on his chest.
"It was instantaneous, I thought of controlling it but the ball kept floating in the air and then I hit it with my left and I realised (it was a goal) when it touched the net," he said.
"Those are goals that happen very rarely, more so with the left foot in my case.
"You always dream of scoring a goal at the World Cup and the truth is that things are turning out very well for the whole squad. I got it, we got through and we're very happy."
Rodriguez's goal made him Argentina's joint top scorer in the tournament with three goals, level with Hernan Crespo whose equaliser on Saturday was helped in by Mexico striker Jared Borgetti.
The Atletico Madrid player, who scored Argentina's first and third in the 6-0 rout of Serbia & Montenegro 10 days ago, began his career at Newell's Old Boys in the city of Rosario.