Burkina Faso coach Paul Put, whose own career was blighted by his involvement in a match-fixing scandal in Belgium in 2005, says the problem has always existed in soccer and little can be done.
The Belgian has made progress in his bid to rehabilitate his reputation by taking the unfancied side to the African Nations Cup semi-finals on Wednesday but his murky past has become a focus in the build-up since the release of Europol's report this week detailing widespread European match-fixing.
"Match-fixing has always existed in football. If you look in cycling, at Lance Armstrong, it's always him who is pointed at but everybody was taking drugs.
"When I played football I saw a lot of things. I don't think you can change it. It's unfortunate but I think in every sport you have to face those things," he told reporters on Tuesday ahead of Burkina Faso's meeting with Ghana in Nelspruit.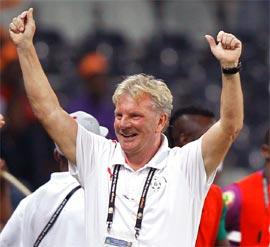 Put and players from his club Lierse were paid to throw matches in the 2004-2005 season, generating betting gains on Belgian football in China in what became known as the Ye scandal after the Chinese businessman Ye Zheyun, who Belgian police said was at the centre of the affair.
Put said he had fixed two matches while in charge at Lierse in 2005. He said his family had been threatened and feels he was a scapegoat.
"You have to see what's going on in football. There are a lot of big international players who are involved in match-fixing," he said.
"I think it was worse in the past.
"It was a very hard time for myself and my family and my friends. If they point at you and you are the only one, it is hard. I was threatened by the mafia. My child was not safe. They threatened me with weapons and things like that."
Put was banned from football for three years.
"It's not nice to talk about these things but this is the reality. I've been fighting, fighting, working, working, day and night and at least I now I have satisfaction," he added.
"Now everybody in Belgium is turning and calling me, radio programmes, television programmes but I'm still the same Paul Put as before."
Put said he had been forced into throwing matches.
"Fixing games is a big word. The team at that moment had nothing. It was in a very bad condition. There was no hope, no money, nothing. It was not by our will," he lamented.
Put still faces a criminal trial in Belgium but says he is free again to work. He is hoping success at the Nations Cup will open doors for a return to Belgian football.
Photograph: Thomas Mukoya/Reuters