'If I am able to inspire at least one student in this country with the Spirit of India run, I will feel that my purpose is served.'
Australian ultra-marathoner Pat Farmer discusses the joys and pain of his Spirit of India run with Laxmi Negi/Rediff.com.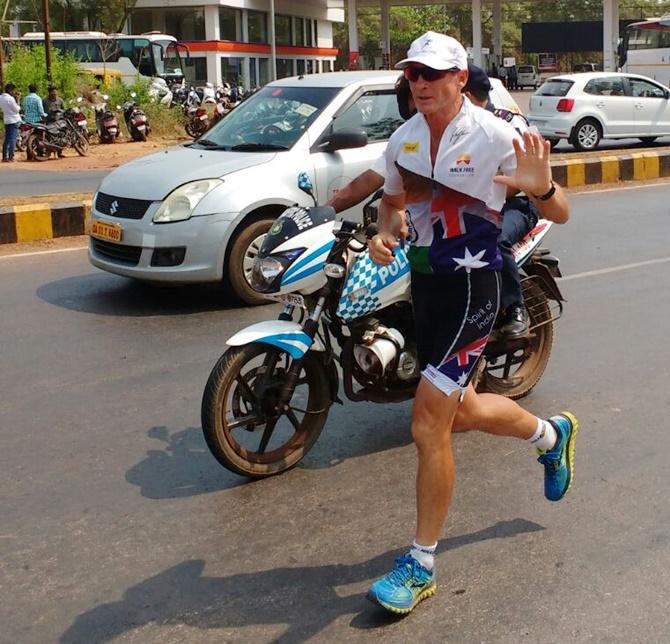 IMAGE: Australian ultra-marathon runner Pat Farmer during his run in Goa. Photograph: Shailesh Karkera
Pat Farmer, the Australian ultra-marathoner who has undertaken the Spirit of India challenge, wakes up at 4 am and is on the road from 5 am onwards.
On his journey from Kanyakumari to Kashmir, the 53-year-old former Australian member of parliament sleeps only 4 to 5 hours a day. The nap, he says, is "just enough" for him during his 60 days' run over 4,600 kms.
"I could not even pronounce the names of the places. My friends and family saw the names of places and distances on the map, but I saw the beautiful coastline, coconut trees and wildlife. I saw a dream and I am realising it," he says, talking about how he plotted his course for the run on a map he had back home in Sydney.
The multiple world record holder in the ultra marathon had a brief halt at the Institute of Hotel Management, in Porvorim, Goa, where he interacted with students.
One student asked Pat what motivates him to run.
"I was one of seven children born to my parents. When I turned 18 my father sent me to work in a garage. I was with the owner when I saw people run. The owner said that they were running from Sydney to Melbourne. I couldn't believe it. And he boasted that there will not be a single young athlete in that bunch because they don't have perseverance, they just want instant results."
"Then I saw a 63-year-old man chugging along. I laughed, saying that if this man completes the race, I will be ready to lose anything. That man did not only complete the race but also won it. That race inspired me to do what I'm doing today."
"If I am able to inspire at least one student in this country with the Spirit of India run, I will feel that my purpose is served."
Pat went on to urge the student to dream and dream big to realise their goals.
He said he was saddened that at a school in Tamil Nadu none of the children raised their hands when he asked what they wanted to become in life.
"There might be a 100 per cent literacy rate (in Kerala), but the children did not have the confidence to say their dream aloud. I want all the children here (in India) to dream big and work hard to realise them."
Laxmi Negi/Rediff.com walked and talked with the man who has run from the North Pole to the South Pole, across Australia, New Zealand, Vietnam and North America while he was running through Goa and crossing over to Maharashtra.
How is the journey so far?
It is really incredible! The tag line 'Incredible India' goes so well. It is incredible because it is so diverse, so different.
Goa is very different from the states that I have covered so far. Every time I cross the border I am surprised, as the states are so much different from one place to another.
The kind of friendship and support I have received from the start is relentless. Everybody has been clapping and cheering me and this run. It is they who want it to be a success.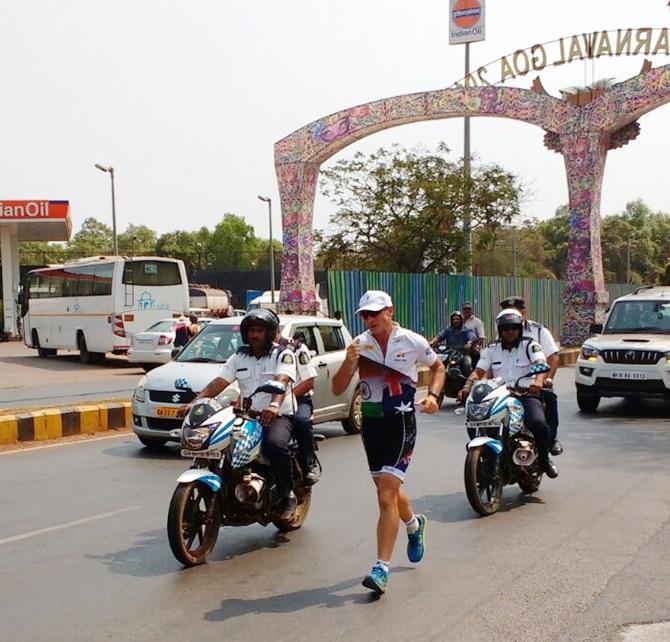 IMAGE: Pat Farmer in Goa. Photograph: Shailesh Karkera
Looks like it has already taken its toll on your health...
Oh, yeah! I find the mornings very congested because I'm not used to the smoke. Goa is a better state.
In Kerala, I found it tough. The rubbish used to be swept on the streets and burned off first thing in the morning. So when I was running in the mornings, the flames of that smoke made it tougher for me. So the start of the day used to be hard for me, but after that, it was fine.
And, of course, acclimatisation with the humidity. It is incredibly humid here. Goa is not so bad, but it is still tough. Some of the other states have been terribly hot, so much so that my shirt has been soaking wet from the moment I start the run to all the way through the day.
Marathon runners complain of chaffing. How do you manage it?
I believe I'm lucky to have a lot of experience. I have been doing this type of running from the age of 18. More than 30 years of experience, so I know which stings I have to put up with, things like blisters and bruises, which injuries possibly could be permanent. The style that I'm running is to avoid injuries. So far, so good.
Are the roads bad here?
The roads in Goa are 100 per cent better than in Kerala. Kerala needs a lot of work. It is a beautiful place, with emerald waterways all through it. But it takes a lot of money put into it as far as infrastructure is concerned.
There is a very strong chamber on the right side. I imagine that is to accommodate the wet season to allow the water to get off the road. But, of course, to run on it means my left leg is travelling further than my right so it keeps throwing my hip all the time. So you have to get used to it.
Normally, it is not a big deal, but when you doing 95,000 steps a day, it is all those little adjustments on your body.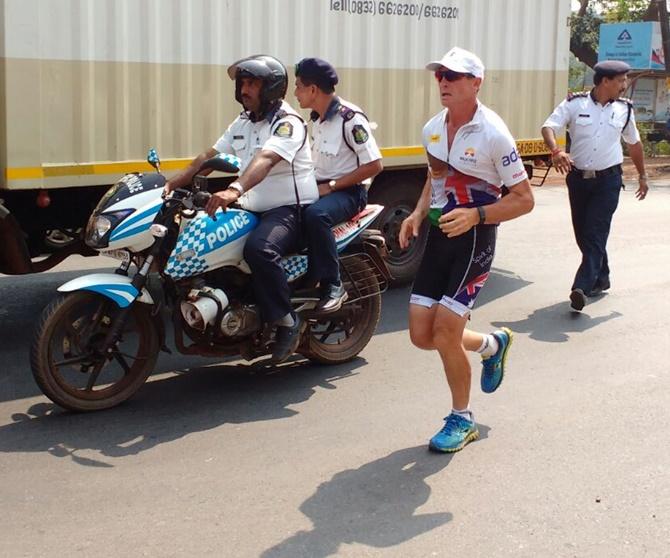 IMAGE: Pat Farmer in Goa. Photograph: Shailesh Karkera
You have done a lot of math. How are you looking at your journey? 45 days more to go...
I have a number of milestones on this run. I have basically broken this run into four stages. The first stage was to Goa and I have achieved that. I knew it would be very difficult to settle in.
Second stage is Goa to Mumbai.
Mumbai is a milestone for me for a number of reasons. It is the first major city that I come across, plus my wife is flying into Mumbai and I'm really looking forward to meeting her.
It will change my frame of mind having her around. She will run with me a little bit, but, majorly, she will be with me on the road.
The third stage will be Delhi.
Achieving Delhi will be quite a big feat, and the last stage will be Srinagar, where I will finish off the race.
I see myself in the second stage of journey. After Mumbai, I will have covered half the distance. Even if the math doesn't work out, mentally I will work it out for me.
Can you rate your journey?
It has been very good. I always say the first week of the journey will be very tough and it was absolutely tough.
Just trying to get my body from zero to relentlessly backing it up day after day it is a huge adjustment. You can train as much as you want, but you can't train for that big mileage day after day. Your body either accepts it or it doesn't.
So my body was trying to reject it, but my mind was strong. I was trying to hang in there and now everything has come together and now I'm just going through the paces.
I have it worked out. I start with 30 kms and by 10 am I stop at a school or college, then another 30 km around 1-2 pm, so that's 60 km and I finish off the day with the last 20 km. I try to get that done by 5-6 pm, depending on my commitments.
At which place have you slept the maximum so far?
I can't remember when was the last time I had maximum of anything. The whole journey, there are so many things that I would like to do. I sleep well when I put my head down, but I get minimum sleep because I have to follow a strict schedule. I eat well when I get a chance to eat. I need to eat in small quantities.
Have you tried Indian cuisine?
(Spots custard apples at a roadside fruit stall and asks his crew to get some for him) I have been looking for custard apples from the time I have landed in India. I knew I would find them here. I love them because I can eat them while I'm running. That's the advantage to running in a beautiful country like India; you get fresh fruits.
Muskmelon (Pat calls it Rockmelon) is a great change in taste. Watermelon is good too, but you can't have it much because it sits in the stomach. But it is great in rehydrating you and it is a great treat. So I keep rewarding myself with a treat on my way.
Just fruits so far. I will stick to a vegetarian diet because it is easier to digest food. It is a bit safer.
One thing I crave at the end of the day is a milkshake. My body also needs some fat so I need to drink something different, like a chocolate milkshake.