She was India's biggest medal hope at the Athens Olympics last year; now Anju Bobby George is looking to further another cause -- as brand ambassador for the Standard Chartered Mumbai Marathon 2005, which will be run on Sunday.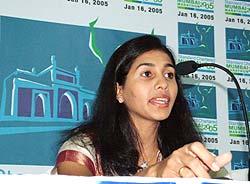 "It is my duty to be a part of the athletic event and promote it," said the 27-year-old long-jumper at a pre-event press conference in Mumbai on Thursday.
The marathon will also signal the start of a new season for Anju, who hopes to compete in at least ten events this year.
Her training will begin in Bangalore and then move over to Europe, preferably London or Australia, informed her coach and husband Bobby George.
"It will depend on the weather in London. If it is too cold we may go to Australia for training," informed Anju.
The Helsinki World championships in August will be a major event in Anju's schedule, George said, adding she will commence her competitive streak with the Osaka Grand Prix in Japan in May followed by the Doha Grand Prix.
"She [Anju] is likely to take part in two meets in the US before moving on to Europe for the Grand Prix events there and the Helsinki World championships. The Asian championships, scheduled at the end of the year in Busan, South Korea, is also in our sights," he said.
Saying that he is happy with the coaching, George disclosed that Anju could well add a physiotherapist to her team.
"We are aiming at crossing seven metres this year, and consistently," he said.
He feels Anju has two years left at the top level before the natural process of muscle deterioration begins, and they will have to extend the optimum performance period till 2008.
Bobby was also of the opinion that the distances achieved in long jump would still be around seven metres till the 2008 Beijing Olympics.
"The IAAF (International Association of Athletics Federation) is becoming very strict about use of steroids in the sport. Seven metres is the limit to which a human being can jump. I don't think the distance will go beyond 7.2."
Though the expenses to train in Europe and compete in events go up to Rs. 50 lakh per year, the husband-wife team is not unduly worried about it.
"We are working out deals with a couple of sponsors and the response has been very encouraging. Lots of corporate houses have come forward, but even if they weren't there we can manage it at the moment. We have to keep moving," said Bobby.
Anju, who had a nine-week training stint in America in 2003 with Mike Powell, who broke Bob Beamon's 23-year-old long jump world record with leap of 8.95m at the 1991 World championships in Tokyo, said Powell had helped her with some running techniques and a few training drills.
Bobby George shrugged off the charges of not doing as well as American and European athletes because of her speed, saying that if sprints are the criteria for longer jumps, the Americans should regularly be clearing the eight-metre mark.