Kenya's Daniel Rono paced himself judiciously to surprise a strong a field and win the third Standard Chartered Mumbai Marathon in on Sunday. He clocked 2 hours, 12 minutes and 03 seconds to obliterate countryman Julius Sugut's rae record, set in the last edition of the 42,195 kms runs.
Sugut had timed 2:13.20 seconds.
Mulu Seboka of Ethiopia, as expected, took the women's honours for the second year running. She led from start to finish to time 2:33.15, a shade better than the 2:35.05 she clocked last year.
Inga Abitova of Russia was second in 2:33:55 and Ethiopia's Leila Aman third in 2:36:17.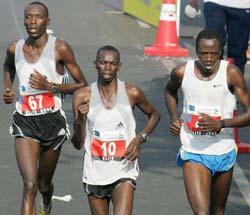 Indians made a clean sweep of the half marathon, with Ram Bahadur Subba, Mukesh Kumar Patel and Jagnath Lakhade finishing in that order among men, and Sarabjit Kaur, Dipika Biswas and Savita Devi doing likewise in the women's category.
At the half-way stage few would have thought that Rono would be the man coming home first in the full marathon. He was way behind the pack of elite runners, led by countryman Simon Kasimili, who set a scorching pace, clocking 1.07.55 seconds at around the half-way mark. But he broke away after Kasimili dropped out having done his job as pacemaker and Ethiopia's Desse Dembelach snatched the lead briefly, to finish with flourish, just ahead of two other Kenyans, Kipkorir Mandago and Stanley Leleito, who were second and third respectively.
Naturam Singh of the Army Sports Institute, Pune, finished first among Indian men in the full marathon, completing the gruelling run in 2:24.45 seconds, while Leelamma Alphonso of Western Railway was the best Indian woman with a timing of 3:02:40.
Around  28,000 runners participated in the run, which was divided into five categories: the longest was of 42.195 km, the half marathon 21.097 km, while the Dream Run seven km.
The Senior Citizens' Run was five km, while the Wheelchair Event was 3.5 km.
Results:
Full Marathon
Men: 1 Daniel Rono (Ken) 2:12.03, 2 Desse Mandago Kipkorir (Ken) 2:12.11, 3 Stanley Leleito (Ken) 2:12.47
Indians: 1 Nathuram (ASI, Pune) 2:24.45, 2 Ajit Singh (Punjab) 2:27.27, 3 Satya Prakash 2:33.02
Women: 1 Mulu Seboka (Eth) 2:33.15, 2. Inga Abitova (Rus) 2:33.55, 3. Leila Aman (Eth) 2:36.17
Indians: 1 Leelamma Alphonso (WR) 3:02.04, 2 H Sangini Devi (WR) 3:09, 3 Dhiraj Indresh (UP) 3:10.06
Half Marathon
Men: 1. Ram Bhadur Subba (Camper) 1:07:26 secs, 2. Mukesh Kumar Patel (U.P) 1:07:58 secs; 1. 3. Jagannath Lakde (ASI) 1:07:58 secs, 4. Sitaram (ASI) 1:08:30 secs; 5. Shivdham Singh (ASI) 1:09:03 secs.
Women: 1. Sarabjit Kaur (Punjab) 1:21:48 secs; 2. Dipika Biswas (CRPF) 1:23:50 secs; 3. Savita Devi (CRPF) 1:24:25 secs; 4. Thockcham Devi (Manipur) 1:26:24; 5. Khem Kumari Goswami 1:29:08 secs.