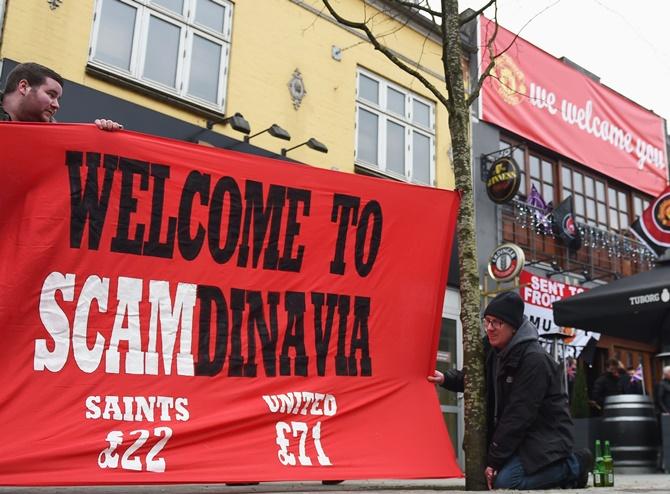 IMAGE: Manchester United fans display a banner in protest at high away ticket prices prior to the UEFA Europa League match. Photograph: Michael Regan/Getty Images
Even manager Louis van Gaal has been 'very bored' watching Manchester United's dull games this season, the Dutch manager has admitted.
United have alienated a section of their fans with a series of soporific displays this season.
Manchester United's hopes of salvaging their season in the Europa League suffered a stinging setback when they lost 2-1 at Danish side Midtjylland in the first leg of their last-32 clash on Thursday.
United fans had to endure freezing condition and extortionate ticket prices to follow the side to Denmark.
Even Louis van Gaal had to agree with United fans who chanted expletive-laden criticism after defeat to Midtjylland.
According to Manchester Evening News the chants of 'we are f***ing s**t' Van Gaal conceded: "The fans can criticise. They can do because when you see the second half maybe they are right.
"We have to improve and then the fans shall support us again.
Under-pressure manager Louis van Gaal knows losing too many more matches 'could be the end of the world'.