Williams and Rodina are the final two mothers still standing in the singles draw out of the six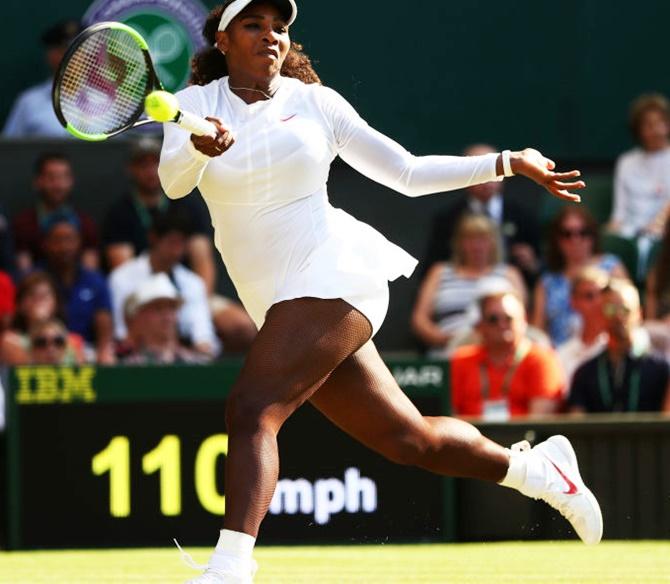 It will be 'Mother's Day' on Wimbledon's Centre Court on Monday when Serena Williams takes on fellow mum Evgeniya Rodina for a place in the quarter-finals of the grasscourt major.
That showdown means it is guaranteed that a mother will feature in the last eight of the singles championships for the first time since Kim Clijsters made it that far in 2010 accompanied by her then two-year-old toddler Jada.
Williams' 10-month-old baby, Alexis Olympia, will have no idea what all the fuss is about on Monday. But Rodina's five-year-old daughter, Anna, will hopefully be able to hang onto some memories of the day when her 'mama' met another 'mom' on tennis' most famous stage.
Williams and Moscow-born Rodina are the final two mothers still standing in the singles draw out of the six who came out swinging their rackets a week ago.
While the American has been hailed as a 'Supermom' for coming back to the sport at the age of 36 following a year-long maternity break, Clijsters's triumph at the 2009 US Open proved that it was possible to combine roles of being a good mother with that of a champion athlete.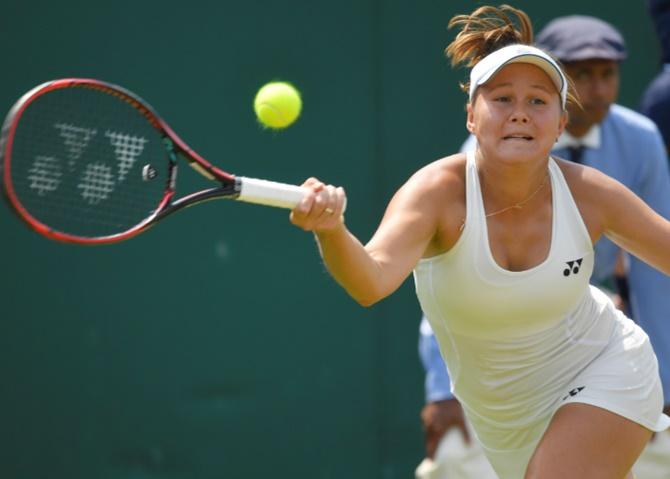 "There are plenty of mothers on tour right now. I'm happy to see that. It makes me proud," Clijsters, the only mother to have captured grand slam titles since 1980, told Reuters in an interview.
"It makes me feel like I had some inspiration and was able to inspire other players to do that. Players know it's possible to come back after they have a kid if they want to, the choice is theirs."
It is a choice made by several others as the current top 200 in the WTA singles rankings features at least seven working mothers.
Players opting to take a career break are offered assistance in various areas by the WTA governing body, be it medical or psychological.
The WTA's senior director for athlete assistance, Kathy Martin, said a "a travelling troop of physiotherapists, massage therapists, medical advisors and psychologists" are on hand to offer assistance to any player during or after pregnancy.
"We help players cope and adjust as they come back," Martin, who has been with the WTA for over two decades, told Reuters.
"Our focus has always been to ensure there is a healthy platform and they are supported emotionally and physically when they are returning to play."
However, for Victoria Azarenka, who was ranked number one and won two Australian Open titles before the birth of her son Leo in 2016, all of that is not enough.
The Belarussian, who is a single mother, wants regular WTA Tour events to follow Wimbledon's lead in providing more on site childcare facilities.
But Martin said the providing of a creche is not a mandatory requirement at WTA events.
"Most of our mothers... sort out their own childcare arrangements. It's just like the rest of their team, as it's not like we are giving them a coach for the week," said Martin.
"We do have creches at some events... but not everyone even uses those. When we are working with a tournament, we are looking at what facilities are on site for the tennis tournament to proceed.
"What is directly related is a physiotherapy room, decent medical facilities, a counselling room, the media area, we need courts… all of those things are mandatory for running a tournament.
"Some organisers (in addition) may decide to have a beautician, some will set up a creche but we haven't gone driving them in any particular direction because those things are not directly related to the competition."
A lot of focus has been given to Williams' comeback as she chases a record-equalling 24th Grand Slam title to draw level with Australian great Margaret Court, who won her last three majors in 1973 following the birth of her first child.
However, Germany's Tatjana Maria was among several unsung mothers who were also in the Wimbledon draw.
The 30-year-old won her first WTA singles title last month in Mallorca.
Last Wednesday, Maria was one of three mothers to contest their second-round matches on Centre Court, with Azarenka and Williams being the other two.
Unfortunately, barely anyone noticed her achievements because so much is being made of Williams' comeback.
However, whether a tennis mum has the profile of a Serena Williams or a Tatjana Maria, Clijsters believes they should count themselves lucky.
"I see other female team sports and how their organisation works and am surprised at how little support there is," said Clijsters, who is an ambassador for the Oct. 21-28 WTA Finals in Singapore.
"I had a lot of support from the (WTA) board, I had a lot of support from physios. That support is always there," added the Belgian, who won three of her four majors following Jada's birth.