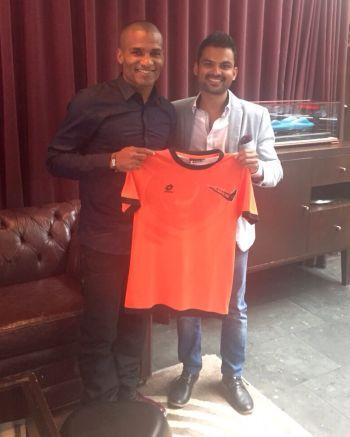 Former Chelsea winger Florent Malouda will join Brazilian Roberto Carlos at the Delhi Dynamos for the second season of the Indian Super League, the club announced on Sunday.
Delhi Dynamos on their official Twitter handle welcomed the Frenchman by saying, "Say #NamasteMalouda as we welcome former @ChelseaFC star, UCL winner & World Cup finalist @realflorentm to our Pride!".
The 35-year-old former France international last played for Metz. "I am extremely excited for my new innings and to join forces with Roberto Carlos," the former Lyon player said in a club statement.
"India has great football talent and a league like ISL will bring certain amount of interest and will help develop Indian football.
"I look forward to give my best to the league and make the Delhi fans proud,"he added.
The second season of the eight-team league begins on Oct. 3.
"Malouda is a classic player and brings with him years of world class experience," Carlos, Delhi's marquee player-manager said.
"I am sure both the Indian and international players will learn a lot from him. His presence will not only strengthen the team but will also create high excitement levels among the ISL fans," added the former Real Madrid defender.
The ISL got off to a rousing start last year with Brazilian Zico headlining the managers' list and its marquee players including Italian duo Alessandro Del Piero and Marco Materazzi, and Frenchman Nicholas Anelka.
Image: Florent Malouda with Delhi Dynamos president Prashant Agarwal