'Nothing has changed at Force India,' says Mallya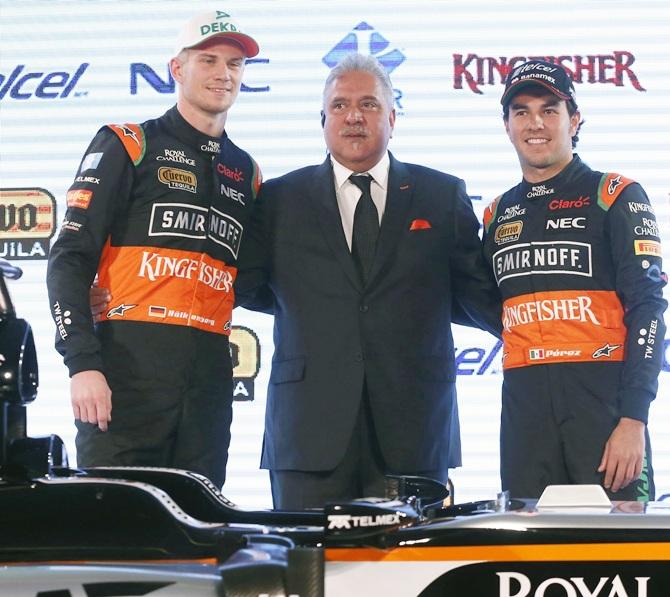 IMAGE: Force India Formula One drivers, Nico Hulkenberg of Germany, left, and Sergio Perez of Mexico,right, and Force India team principal Vijay Mallya pose with the new Force India racing car. Photograph: Edgard Garrido/Reuters
Troubled business tycoon Vijay Mallya, on Sunday, asserted that his stepping down as chairman of the United Spirits Ltd will not affect his control in Formula One team, Sahara Force India.
It is widely believed that his $75 million (Rs 515crore) deal with UK-based liquor major Diageo meant that his control is over not only in IPL team Royal Challengers Bangalore (RCB) but also in Force India.
RCB is controlled by USL (in which Diageo holds controlling interest) and the control over Watson Ltd, the UK based company that owns the F1 team, has also shifted to Diageo.
However Mallya, known for his flamboyance, says he still is the boss at Force India.
"Nothing has changed at Force India. I remain Team Principal and Managing Director," Mallya said.
"If you take loan, you give some shares as security. That does not mean security has changed. Diageo may have security over my shares but ownership has not changed. I don't know why is everybody making a deal about it?
"Formula One has nothing to do with my stepping down from United Spirits. They are not connected at all. In F1, nothing has changed. The ownership pattern remains exactly the same," he asserted.
Mallya has 42.5 per cent stake in the team while Sahara Group also has 42.5 per cent share and the remaining 15 per cent belongs to the Michiel Mol family.
"As far as RCB is concerned, I am chief mentor which means that I am still very much part of the team. I will be present during the IPL," he said on the sidelines of FMSCI Awards function.
In his statement after stepping down, Mallya had mentioned about RCB but was silent about Force India.
Mallya had bought RCB in 2008 for a staggering $ 111.6 million, the second only to Mumbai Indians that was bought by Reliance Industries' Mukesh Ambani for $ 111.9 million.