Playing tennis professionally can be difficult physically, mentally and emotionally.
But the tennis courts have often been the venue for for blossoming romance as love-struck couples decide it is game, set and match.
As the tennis season begins with the first Grand Slam, the Australian Open, Rediff.com's Roshneesh Kmaneck looks at top 10 romances that blossomed on and off the court.
Maria Sharapova and Grigor Dimitrov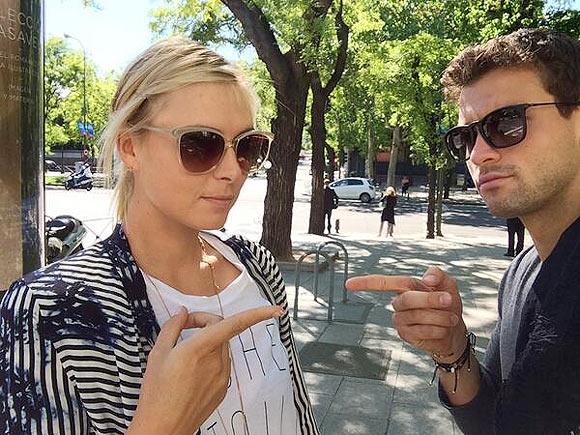 Photograph: Kind courtesy Grigor Dimitrov/Twitter
Maria and Grigor announced they were a couple in May 2013 and were often photographed together -- enjoying their free time, cheering each other at matches.
Their relationship was a hot topic in the tennis world with some speculating that they would wed in 2015 after Maria wore a ring on her fourth finger and gushed about the romance.
Alas, love ended for the good looking pair in July 2015 with Grigor saying that the couple had simply 'split paths' and that he wished his Russian ex 'happiness and success'.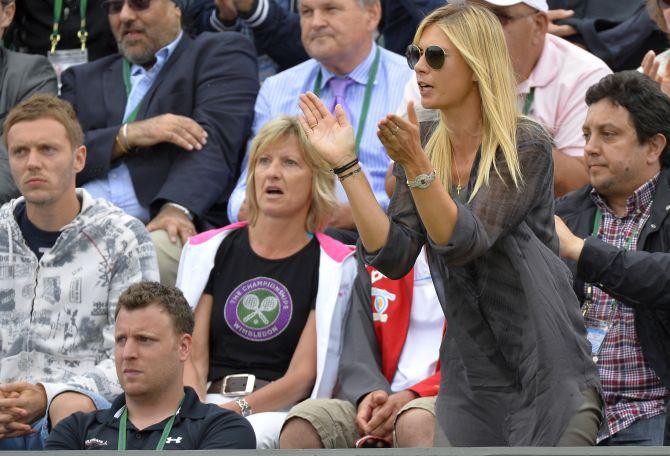 Photograph: Toby Melville/Reuters
In her 2017 book Unstoppable, Maria wrote about the break-up:
'Grigor recently told me -- we were talking on the phone after he'd reached the semi-finals of the Australian Open -- that one of the worst things in life is when you have the right thing at the wrong time.'
'It made me think of an evening we spent before the 2015 Wimbledon tournament. He pulled out a book that Wimbledon puts together of previous championships.'
'He quietly flipped through the pages of the book until he found a picture of me, in his box, watching his match. He looked at me, sad -- I thought I saw tears in his eyes -- Did you see this? This means everything to me.'
'Seeing you in my box next to my mother.'
'It was then, at that moment, that the emotional pull I had been fighting came to an end. I knew, and so did he, that I couldn't be that person at this time of my life.'
'I was supposed to be focused, getting prepared for my own matches, my own triumphs and defeats, on the largest stage of my career.'
'I had been watching his match that day only because I'd lost early at those championships. So his good memory was my bad memory.'
'What meant everything to him happened only because I had lost. Like he said, you can have the right thing, but it might come at the wrong time.'
Grigor has moved on. 'Baby Fed' is now dating former Pussycat Dolls singer Nicole Scherzinger.
---
Mirka and Roger Federer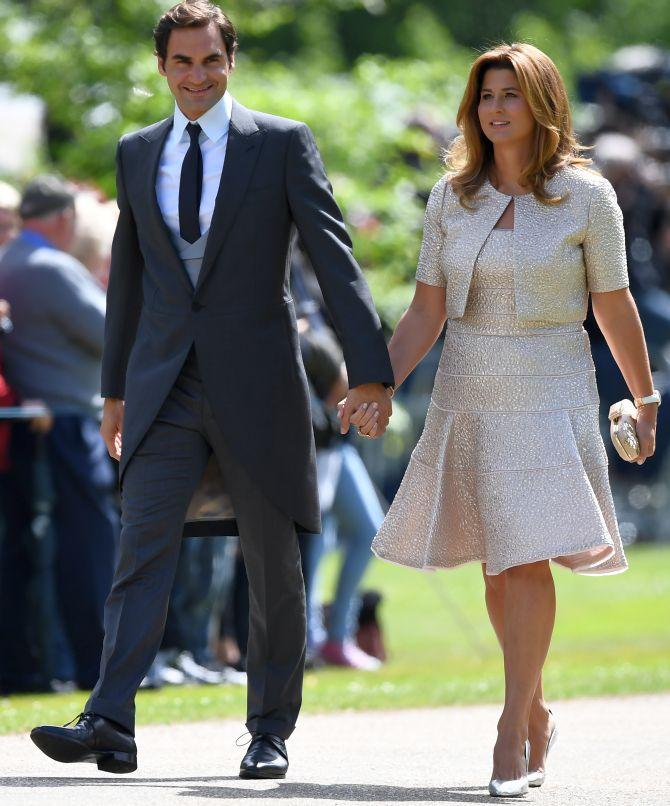 Photograph: Justin Tallis/WPA Pool/Getty Images
Mirka Vavrinec is a constant, reassuring, presence at Roger's courtside, but few remember she is a former tennis pro.
Mirka started playing at the age of nine at the urging of Martina Navratilova who sent her a racquet and arranged for her to have her first tennis lesson.
Mirka moved up the rankings to become one of the Top 100 by 2000 and earned a spot on Switzerland's Olympic team that year.
It was at the Sydney Games that she met Roger and they started dating soon afterwards. The rest, as they say, is history.
They married in 2009 and have four kids -- two sets of adorable twins: Myla and Charlene and Leo and Lenny.
Their emotional hug right after Roger won his 18th Grand Slam at the Australian Open last year gave us relationship goals!
---
Steffi Graf and Andre Agassi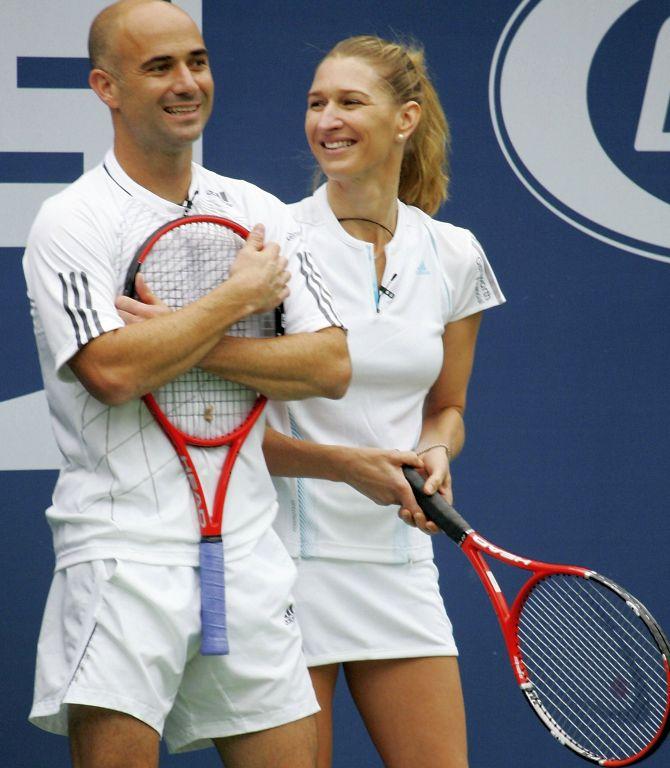 Photograph: Evan Agostini/Getty Images
The sport's legends have won just about every tennis title, but now they've settled into their present-day titles: Husband and wife and mother and father.
These two giants of the game -- one quiet and steady, the other rambunctious with a lot to say -- made an unlikely pair that turned out to be the perfect match.
It all began after Andre and Steffi became surprise champions at the 1999 French Open. Both aces were just coming off long relationships.
After a two-year marriage to actress Brooke Shields, Andre's divorce was finalised a month before his Roland Garros triumph.
Steff's seven-year relationship with racing car driver Michael Bartels had fizzled out.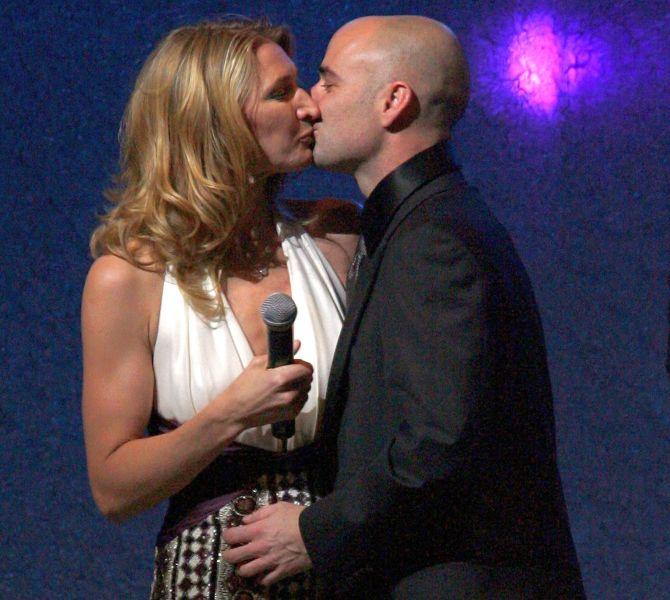 Photograph: Ethan Miller/Getty Images
Steffi and Andre danced the champions dance at the French Open winners' ball, and sparks flew. They started dating soon afterward.
Steffi and Andre's October 2001 wedding was attended only by their mothers. Four days later, their son Jaden Gil was born. Daughter Jaz Elle joined the family in October 2003.
In his 2010 autobiography Open, Andre revealed that that he had admired Steffi the first time he saw her.
He tried once, in 1992 (when they both won Wimbledon), to get near her, but no luck.
Who says life can't have happy endings?
---
Donna Vekic and Stanislas Wawrinka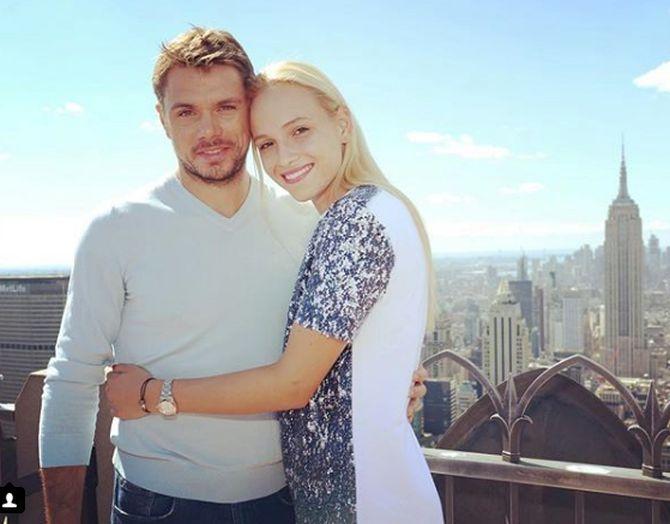 Photograph: Kind courtesy Donna Vekic/Instagram
He's 32. She's 21, but their love keeps blossoming off court.
Speculation about their romance first surfaced in 2015 after Stan announced on Facebook that after 10 years of being together he had separated from his wife Ilham Vuilloud.
While Stan has won three Grand Slams, Donna became the youngest player in six years to advance to an WTA final in 2012.
---
Kristina Mladenovic and Dominic Thiem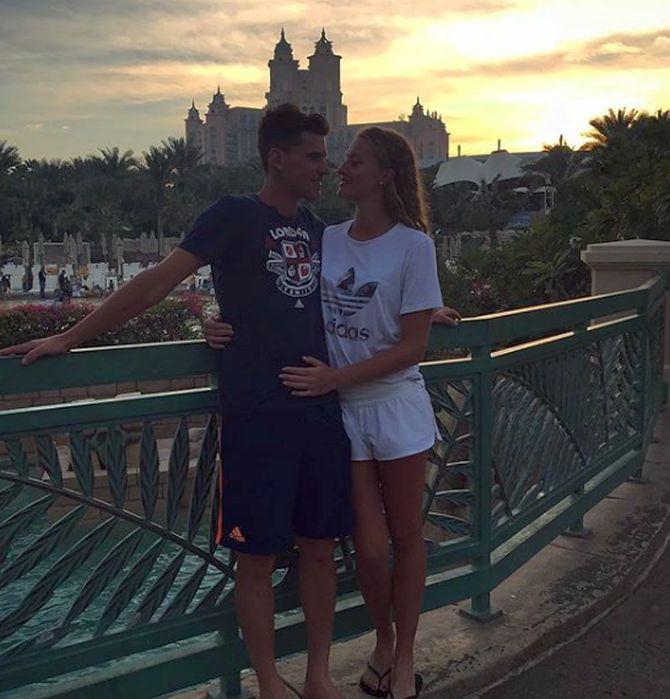 Photograph: Kind courtesy Kristina Mladenovic/Instagram
Kristina and Dominic recently confirmed rumours that they were dating by going 'Instagram official'.
Both tennis stars shared the same photo with the same hashtags, including #TheOne.
'Kiki' was spotted in Dom's box at the 2017 ATP Finals in London, sitting next to his mum Karin.
'We understand each other perfectly, we know what the other is going through, we know the way the other one can feel,' Kiki gushed in an interview in Sydney last week.
Just because they are one of the highest-ranked tennis power couples on tour doesn't mean they will be at all the same tournaments.
Dom, currently the World No 5, started 2018 in Doha. Kiki arrived in Sydney from Brisbane.
---
Kim Clijsters and Lleyton Hewitt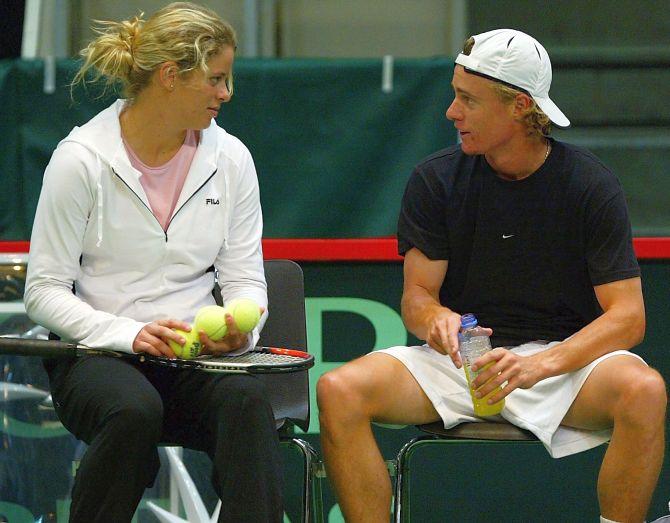 Photograph: Phil Cole/Getty Images
'Rusty' Hewitt, known for his tenacity and 'C'mon!!!' calls, and Kim were tennis' darlings when they started dating in 2000.
They were engaged at Christmas in 2003, but broke up in October 2004.
Tensions between the Aussie's parents and Kim were apparently responsible for the split between the two former World No 1s.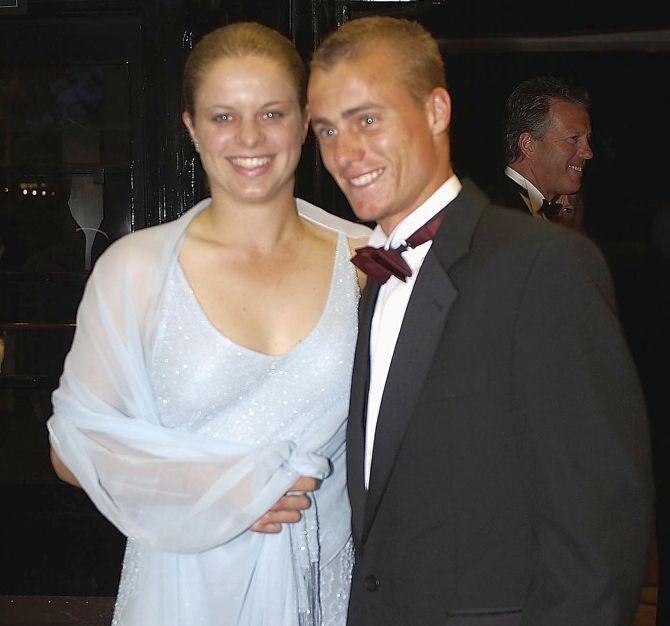 Photograph: Clive Brunskill/Getty Images
Rusty married Aussie actress Bec Cartwright and has three children.
Kim has a daughter Jada with basketball player Brian Lynch.
In a 2012 interview, Rusty noted: 'Kim has been a great player, you know, one of the best in the women's game.'
'She should have won a lot more Slams probably than the four she won.'
---
Chris Evert and Jimmy Connors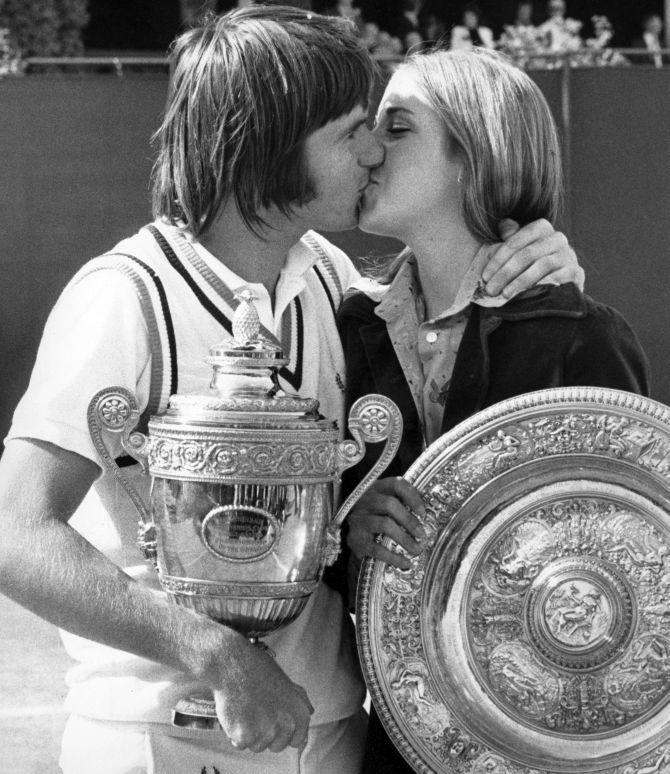 Photograph: Leonard Burt/Central Press/Getty Images
They were America's sweethearts.
In 1972, Chris was 17 when Jimmy, then an up-and-coming 19 year old, spotted her in the dining room at Queen's Club, the London tennis club that hosts the traditional warm-up tournament before Wimbledon.
Despite the fact that Chris was being chaperoned by her formidable mother Colette, Jimmy sat down beside her.
He arranged to take her out to dinner later that week and their first date finished at, ahem!, the Playboy Club.
At Wimbledon in 1974, Chris and Jimmy -- who were engaged in 1973 -- won the singles championships.
At the champions ball, they danced to The Girl That I Marry.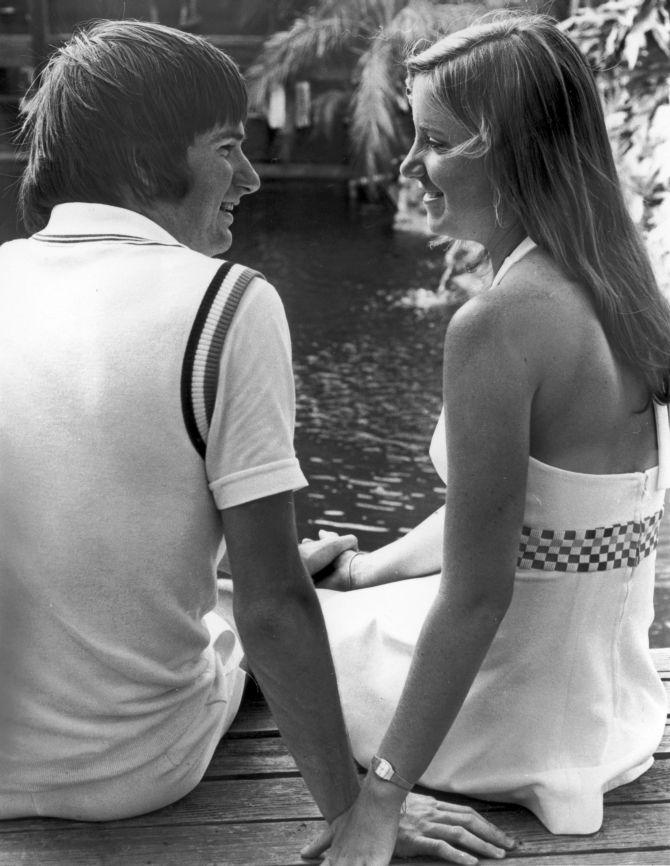 Photograph: Hulton Archive/Getty Images
But the wedding never happened. Planned for November 8, 1974, the nuptials were called off.
They subsequently re-engaged, but separated for good in 1976.
'It was a match made in heaven, not on Earth,' noted tennis writer Peter Bodo, 'which is why it probably didn't last.'
In his 2013 book The Outsider, Jimmy revealed why the November 1974 nuptials didn't happen.
They had been repeatedly unfaithful to each other, Jimmy wrote, and hinted that when they conceived a child, Chrissy -- the staunch Catholic -- insisted on terminating it.
---
Lucie Safarova and Tomas Berdych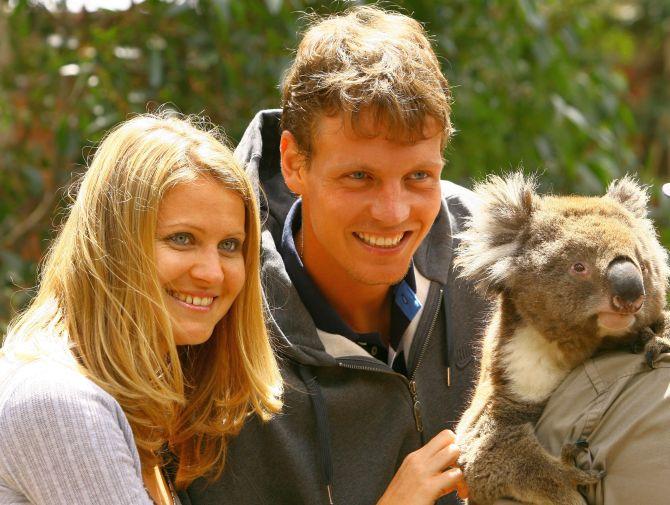 Photograph: Robert Prezioso/Getty Images
They met in 2002. He was 17, she 15.
It looked a fairy tale match, one intended to conclude with a happy ending.
Then in 2011 came painful separation.
'When I was with Safarova,' Tomas said in an interview, 'I thought that staying together a professional tennis player was the best thing for me, but there was too much tennis.'
'Playing every day, manage wins and losses, it is not already easy for you, let alone if you're two to have the same problems.'
Tomas is now married to Ester Satorova. Lucie, happily, is playing some of her best tennis.
---
Flavia Pennetta and Fabio Fognini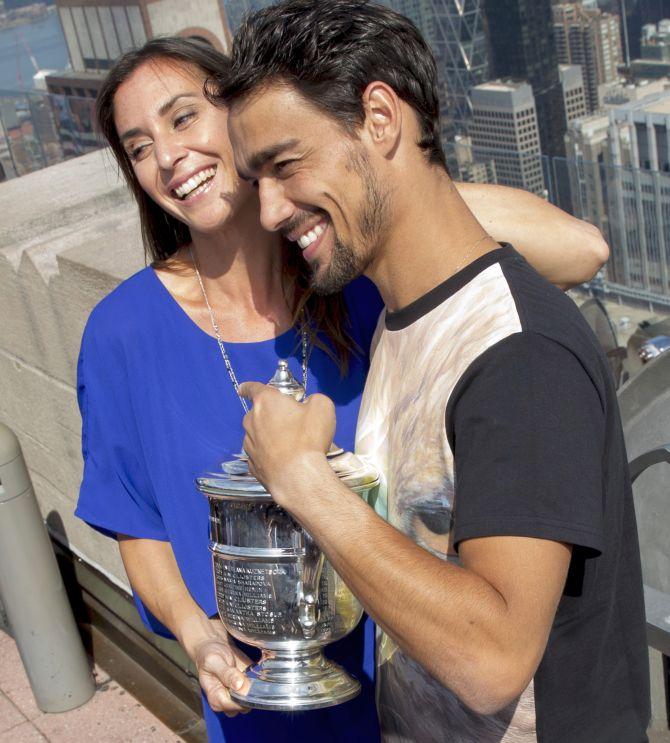 Photograph: Brendan McDermid/Reuters
The Italians started dating in early 2014, were engaged in 2015, tied the knot in June 2016.
Flavia -- who retired in 2015 after defeating her childhood buddy Roberta Vinci at the US Open championships -- gave birth to son Federico on May 29, 2017.
She was Italy's first top 10 female singles player in 2009; in 2011 she became the first Italian to be ranked world number one in doubles.
---
Martina Hingis and Radek Stepanek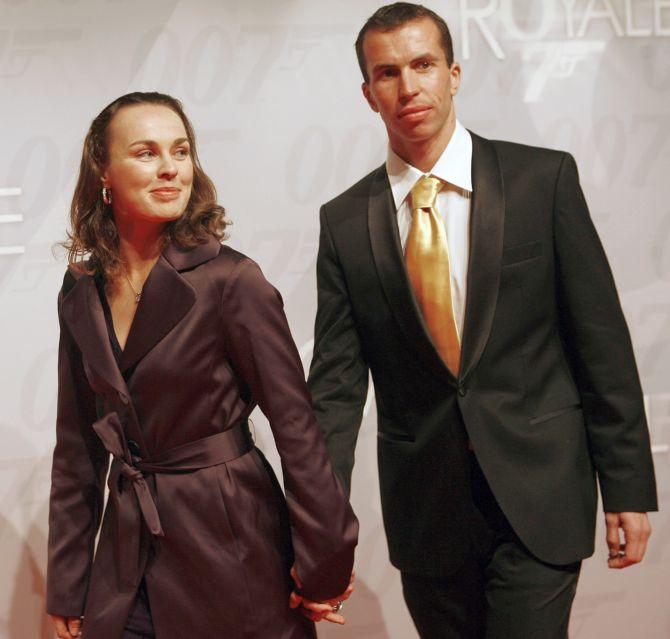 Photograph: Siggi Bucher/Reuters
What do you call a man in Czech for someone who only dates tennis players?
Radek Stepanek?
Martina and Radek started dating at the 2006 Australian Open. Radek proposed in Prague after the season finished.
Their engagement came to light at the beginning of 2007. Martina quipped she was surprised it had taken so long for people to notice her ring.
Later that year, an ATP spokesman (strange choice that for a personal announcement) announced that the two had split, 'but will remain good friends'.
Radek married Nicole Vaidisova, but was also rumoured to be dating Petra Kvitova.
In 2015, he declared that 'You can be sure that I am done dating tennis players.'
'The easier thing is they understand what you are going through while practising, playing matches, winning or losing and travelling.'
'The difficult part is since everyone is used to different things to calm down and relax. It's two people living different lives together.'