'I have one message for you. Please do not doubt us. America's diversity is our greatest strength'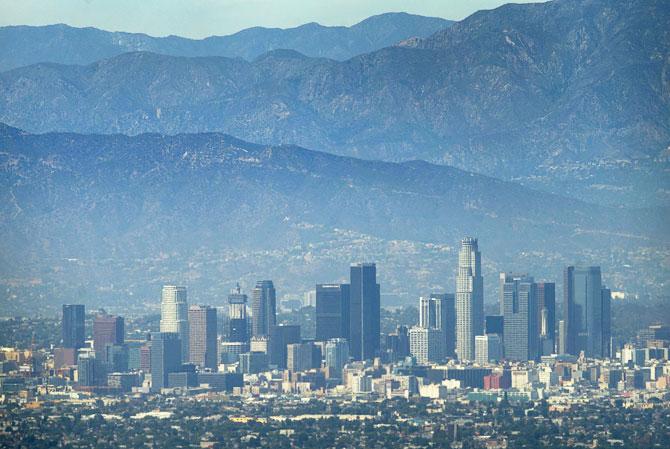 IMAGE: The city of Los Angeles, California is pictured on a hot summer day next to the San Gabriel mountains August 5, 2015. Photograph: Mike Blake/Reuters
Los Angeles 2024 Olympic bid leaders on Tuesday sought to allay concerns within the Olympic movement following Donald Trump's US presidential election victory, saying the candidacy would continue to "celebrate our diversity".
Los Angeles, bidding to host the summer Games for a third time after 1932 and 1984, was seen as the front-runner in the race with Paris and Budapest until Trump's election this month.
Los Angeles mayor Eric Garcetti, a Democrat, had warned that victory for Republican Trump would not help the bid given the makeup of the 98 voting members of the International Olympic Committee (IOC) membership.
Trump courted controversy in the run-up to the election with campaign proposals including a call to ban Muslims from entering the United States and building a wall along the U.S.-Mexican border.
"We just finished our presidential election and some of you may question our commitment to our founding principles," Los Angeles bid official Allyson Felix, a six-times Olympic track and field champion, told a meeting of national Olympic committees in Doha.
"I have one message for you. Please do not doubt us. America's diversity is our greatest strength."
The audience included IOC President Thomas Bach as well as international sports federation presidents and IOC members as the three cities made the first of three official presentations ahead of the vote next year.
Felix said Los Angeles needed the Games "now more than ever" to help make the United States better.
"We are a nation of people whose descendants came from all over the world for a better life," she said.
"We are also a nation with individuals like me, descendants of people who came to America, not of their own free will but against it," she added.
"But we're not a nation that clings to our past, no matter how glorious - or how painful. Americans rush toward the future."
The IOC will choose the winning bid at its session in Lima, Peru in September, 2017.