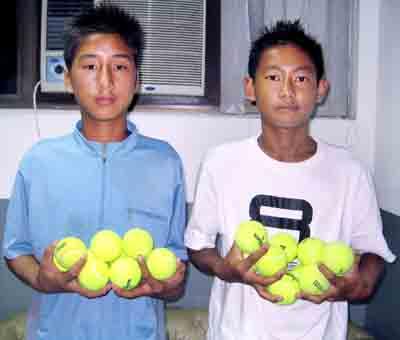 Mhieslhouto (left) of Nagaland and Khamgailung of Manipur, among the ball kids selected for the Australian Open '09, at a function in New Delhi on Monday.
The kids, who belong to the Nagaland Tennis Association (NTA), will continue the recent tradition of Indian ball kids at Melbourne Park.
In 2005, as part of their centenary celebration, the organisers of the Australian Open, in a bid to increase Asian participation, had selected amongst others four ball kids from India.
About 200 kids in the age group of 12 to 15 years, from all over India, assembled for the three-day programme.
As part of the programme, a clinic for coaches training has been organised for the Indian coaches, by the Aussie legend Peter McNamara.
For the 2006 edition, Life Insurance company Aviva conducted a ball kids trials in New Delhi in November 2005. The six kids selected got a chance to go to Melbourne.
And with the two NTA kids going, the tradition will continue.
Photograph: PTI