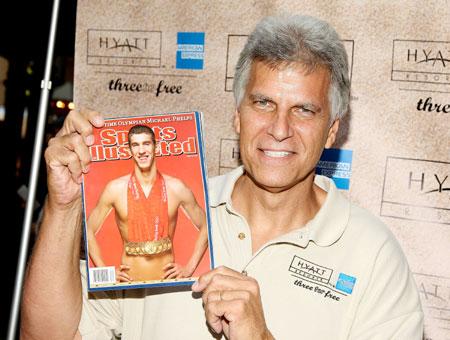 American swimming legend Mark Spitz posed with the new Sports Illustrated Magazine featuring Olympic champion swimmer Michael Phelps on the cover at the Hyatt Resorts 'Vacation Training Camp' competition at Grand Central Station in New York City on Wednesday.
The competition marked the launch of Hyatt Resorts' 'Three for Free' fall promotion in partnership with American Express.
Phelps, 23, broke Mark Spitz's 1972 record of seven golds at a single Games. He won six golds in Athens in 2004 before going on to win eight in Beijing, seven of them in record timings.
Spitz, on his part, has been generous in his appreciation for his younger compatriot while admitting: "I feel a tremendous load off my back."
He has gone on to hail Phelps as "the best Olympian of all time",
Spitz, who for various reason was not in Beijing to witness Phelps equal his record, is genuinely delighted with his countryman joining him on the seven-golds-in-one-Games mark.
Spitz, 58, also has described Phelps' performance in just one word as "epic."
In 1972, at the Munich Games, Spitz entered four individual events and three relays and set world records in all of them.
Phelps entered five individual events and three relays in Beijing and set world records in seven events
 In winning gold in the 100m butterfly Phelps could "only" manage an Olympic record of 50.58. 
Photographs: Getty Images