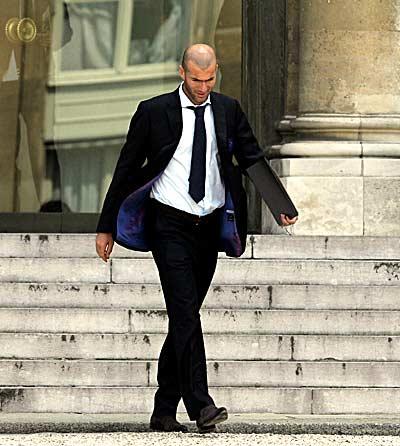 Zinedine Zidane leaves the Elysee Palace -- the French president's home -- in central Paris after a special lunch for the French football team and their families with French President Jacques Chirac and his wife Bernadette.
The lunch was held on Monday after the team returned from Berlin where France was defeated in the World Cup final by Italy 5-3 on penalties.
Earlier, Chirac told Zidane, 'Dear Zinedine Zidane, what I want to express to you at this perhaps most intense and difficult time in your career, is the admiration and the affection of the whole nation -- its respect too. You are a virtuoso, a genius of world football, you are also a man of heart, of commitment and of conviction. That is why France admires you and loves you.'
David Trezeguet, who botched his penalty, apparently broke into tears on facing the crowd outside the presidential palace.
Zidane, who won the World Cup's Golden Ball award, is expected to explain in the next few days what caused him to violently butt Italian defender Marco Materazzi in the chest which led to his expulsion from the final.
According to London's The Independent newspaper, Materazzi allegedly called Zidane's sister Lila a prostitute and him a dirty terrorist. The exchange began with Materazzi catching hold of Zidane's jersey. The French midfielder responded unheatedly by offering to give him his shirt at the end of the match at which Materazzi responded with an apparently extremely offensive insult about Lila, the newspaper said. This conversation was interpreted by Brazilian television channel Globo's lip readers, the Independent reported.
Zidane has at several points in his career had to fend off racial slurs thrown at him because of his Algerian roots.
Materazzi on the other hand denied this exchange and declared he does not even know the meaning of the comments he is supposed to have made.
London's The Daily Telegraph says it was an insult against his mother Malika, who Zidane had recently heard was ill. The BBC reported that Materazzi wished death on Zidane's clan.
The New York Times interviewed Zidane's cousins, who still live in the same village Zidane's father hails from, close to Algiers in northeastern Algeria, and they declared Materazzi either called him a terrorist or a son of Harkis (someone who supported the French colonists in Algeria).
Photograph: Patrick Kovarick/Getty Images