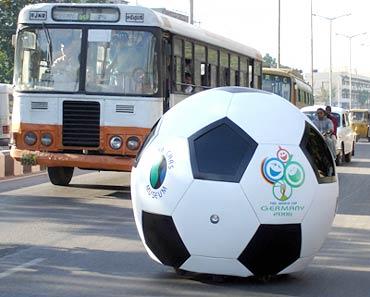 Kanyaboyina Sudhakar, founder of the world's first museum for handmade cars, drives through the streets of Hyderabad on Friday in a specially-designed football-shaped car.
Football fever is mounting ahead of the 2006 FIFA World Cup, which kicks-off in Munich, Germany next Friday, June 9.
The potty car customiser has also devised a giant motorised boot and a gleaming cricketball car.
Sudhakar shot to fame in India when he designed a two-metre (6ft 5ins) high ball to raise the spirits of the Indian cricket team during the 2003 World Cup.
Photograph: STRDEL/AFP/Getty Images