Former 100-metre World champion Kim Collins was disciplined by the St. Kitts and Nevis team and dropped from the event at the London Olympics on Saturday.
St. Kitts and Nevis team spokesman Lester Hanley told The Associated Press that Collins would not run in his heat after breaking team discipline rules by leaving the athletes' village.
- London Olympics 2012 - Complete coverage
"Kim has not been in camp the last couple of days," Hanley said in a telephone interview.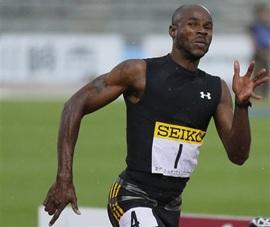 Collins posted messages on his Twitter account Saturday, saying "My fans. I won't lie. Won't be running later tonight."
"Even men in prison get their wives to visit," wrote the 36-year-old Collins, who is attending his fifth straight Summer Games
The 2003 World champion was the team's flag-bearer at the Olympics opening ceremony.
Collins is still entered in the 200 and the 4x100 relay and could yet run if the team management allows.
"That I can't answer at this point whether they will give it further consideration," Hanley said.
Still, Collins suggested on Twitter that the 2011 Pan-American Games, where he won silver in the 100, would be his final appearance for the Caribbean state.
"For those who saw me run in Mexico. That's the last time I represent my country," he said.
Collins is the second of an original seven-athlete Olympics team from St. Kitts and Nevis to be disciplined.
Sprinter Tameka Williams, the only woman on the team, was sent home last weekend for a potential drug violation despite not testing positive for a banned drug.
The St. Kitts and Nevis Olympic Committee said Williams had acknowledged using a substance which was "clearly outside the medical code."
Photograph: Shizuo Kambayashi/AP