He was not quite sure if training abroad before Olympics would help much but after spending a fortnight preparing in Ireland, London-bound Vijender Singh said the experience has done a world of good to the Indian boxers ahead of the mega-event this month.
An unprecedented seven Indian male boxers would be participating in the Olympics in London and six of them were in Dublin for a fortnight last month to train for the Games.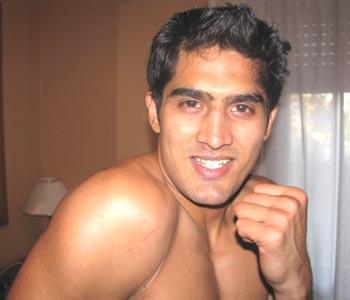 Vijender (75kg), Shiva Thapa (56kg), L Devendro Singh (49kg), Manoj Kumar (64kg), Sumit Sangwan (81kg) and Jai Bhagwan (60kg) were the ones who trained in Dublin under the watchful eyes of national coach Gurbax Singh Sandhu, while Vikas Krishan (69kg) stayed back to give his college exams.
Vijender said he was skeptical about going abroad with just a few weeks left for the Olympics but has come back more assured of his preparations for London.
"I was not sure how it would help us; I thought training in Patiala would be better. But after going there, I realized how much difference it could make to our preparations," Vijender said.
"It made a huge difference as we got acclimatised to European conditions. It is biting cold there and extreme heat here. So, now when we go to London, we won't exactly be shocked by the weather. It would be easy to adapt," he said.
The Indian boxers are in the country for just 10 days before they pack off for London, where they will train before heading to the Games Village in the last week of the month for the July 17 to August 12 event.
"We followed an exhausting training schedule in Dublin. It was perfect to put us into rhythm for London. We used to train twice a day in Dublin. In the morning, we practiced among ourselves while in the evening we used to spar with other teams which had come there," Vijender explained.
"I think we have come back a stronger bunch and it would show in our results in London," the strapping six-footer, who became India's first boxing medallist in the Olympics, said.
The Beijing bronze-medallist, who also bagged a bronze at the World Championships in 2009, will be joined by the young brigade of teens such as Shiva and Devendro, in London and they also claimed to have gained from the trip to Dublin.
"It was a really good experience. We trained in 10 to 15 degrees of temperature and it benefited us a lot," said Shiva.
"I think it will be easier for us to adapt when we reach London after this experience," he added.
National coach Sandhu said the purpose of the trip was acclimatisation and it has been fulfilled.
"The boys had a great time because they had the best of training and also got a fair idea of the conditions in Europe. Now they are better prepared for London," he said.
"We had competitive bouts as well but there were no winners or losers as that creates unnecessary pressure. So overall it was a good trip before the Olympic battle," he added.