Indian archers continued to be off target at the Olympics as Jayanta Talukdar and Chekrovolu Swuro crashed out in the opening round of the men's and women's individual events, respectively at the Lord's Cricket Ground in London on Tuesday.
-London Olympics 2012 - Full coverage
Talukdar was no match for his American rival Jacob Wukie, who easily pocketed the encounter 6-0, while Swuro went down fighting to Jennifer Nichols of USA 6-5 in the one arrow shoot-off after the scores were tied at 5-5.
In individual events, which are decided on best of five sets (three arrows each), the one who wins a set, irrespective of the margin gets two points.
Swuro was leading 5-3 and could have clinched the issue but for the bout of nerves that made her fire the arrow in a waywardly.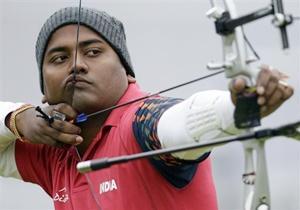 The Indian needed to hit a 10 in order to clinch the tie but the nervous Nagalander could only manage a six as the score was tied at 5-5.
In the shoot-off, the American scored a nine, while Swuro managed to shoot an eight.
Earlier, Talukdar was a trifle off-colour and lacked the consistency as he started poorly with a score of 22 (8, 5 and 9) in the first set, while Wukie hit 27 (8, 10 and 9).
The Indian archer paid the price for a poor score of 5 in the first set and could not really recover from that lapse of concentration.
Talukdar fought back in the second set but Wukie was in imperious form as he hit three straight 10s, the maximum possible score.
Talukdar picked up and hit his first 10 in the third set and returned with a score of 28 but Wukie was relentless as he hit two more 10s and a nine to pocket the set and the contest with a score of 29.
Wukie has already won a silver medal along with his US teammates Brady Ellison and Jake Kaminski in the men's team event.
Explaining the reason for their flop show, Talukdar said, "Just before the Olympics, all of us -- me, Rahul Banerjee and Tarundeep Rai were down with fever and became very weak. That's the main reason we shot badly in the ranking round."
"Then we ended up with a tough draw and have to face someone shooting really good, like Jacob. In this match I just didn't start well or with any confidence. In the third end I got better and shot a good score of 28 but Jacob was just better. If you want to win you have to be confident," he added.
Photograph: Marcio Jose Sanchez/AP Photo