L Devendro Singh put up a gallant fight against Ireland's Paddy Barnes but lost the light-flyweight (49 kg) quarter-final bout 18-23, at the London Olympics, on Wednesday night.
With Devendro's defeat, India's campaign in the boxing competition at the Games ended.
- London Olympics 2012 - Complete coverage
Earlier in the day, woman boxer MC Mary Kom also lost in the semi-finals. She was beaten by Britain's Nicola Adams 11-6 in the women's flyweight (51kg) category.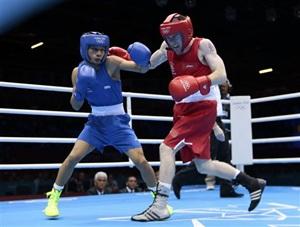 The Indian men's boxing team returns empty handed from the quadrennial extravaganza after only Vijender Singh and 20-year-old Devendro reached the last-eight stage.
It was Devendro's inexperience that was partly responsible for his downfall. Although he landed a few hard blows on his opponent, the
Irishman was equal to his task with an exhibition of fantastic defending.
Barnes showed that boxing is not only about trading punches, but smart defending too.
The manner in which he time and again evaded an attacking Devendro made the battle even more entertaining. He induced an impetuous Devendro to indulge in 'head butting' which cost him two penalty points in round two. If Devendro tried to 'sting like a bee', Barnes was ready to float like a butterfly.
That really put the Indian on backfoot as Barnes took an unassailable 17-10 lead after second round.
The third round was 8-6 in Devendro's favour, but it was a tall order to surpass after being penalised in the second.
Barnes also got two points docked as he was continuously trying to put his head down in order to defend the punches.
Although Devendro lost the bout, he certainly won the hearts of millions of Indians with his never-say-die attitude.
Photograph: Photo/Ivan Sekretarev