Ethiopian Haile Gebrselassie beat Britain's Paula Radcliffe in their half marathon head-to-head in Vienna on Sunday.
Radcliffe, the women's marathon World record holder, was given a start of seven minutes and 52 seconds -- the difference between the two athletes' personal bests for the distance - - but was caught by Gebrselassie about three quarters of the way into the race, organisers said.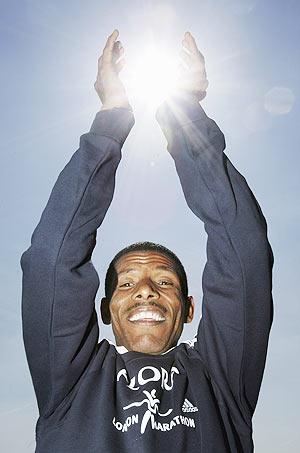 Gebrselassie, twice Olympic gold medallist for the 10,000 metres, completed the course in 60 minutes 52 seconds while Radcliffe, who had suffered a bout of bronchitis in recent weeks, finished in 72:03.
Radcliffe was using the race as part of her preparation for the London Olympic marathon and had said she was hoping for a time under 70 minutes.
"I am at a loss to explain why it was quite so bad. I still would have expected and hoped for a time in the 69s," the 38-year-old told BBC Radio.
"The format of the race meant that I could not stop, even though I felt really bad, so I tried to just keep going. I tried to zone out and just get through it. That it was I did, and I feel a bit shaky now.
"The thing that worries me is that I did not feel myself out there while running. The danger is that it affects my confidence," added Radcliffe, who has never won an Olympic medal.
The unique chase race was held in conjunction with the Vienna City marathon which was won 26-year-old Kenyan Henry Sugut in 2:06:58. Ethiopia's Fate Tola retained her title in the women's event in 2:26:39.
Photograph: Warren Little/Getty Images