Usain Bolt of Jamaica won his second straight Olympic gold medal in the men's 100 metres on Sunday, crossing the line in an Olympic record 9.63 seconds.
Bolt joined Carl Lewis as only the second man to go back-to-back in track's biggest race.
His training partner and fellow-Jamaican, Yohan Blake, finished second in 9.75.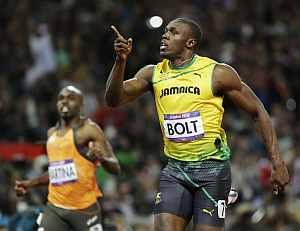 American Justin Gatlin took bronze in 9.79.
- London Olympics 2012 - Complete coverage
Bolt fell shy of his World record of 9.58 seconds but improved on the 9.69s he ran four years ago in Beijing to enter his name, once again, in the Olympic record book.
Unlike his showboating and coasting during a then world-record run at Beijing four years ago, Bolt was all business until near the finish on Sunday night, even leaning at the line. That proved how seriously he took the challenge of his younger training partner, Blake.
He ran on, then knelt and leaned his head downwards, kissing the track before standing and assuming his trademark "To The World" pose -- pointing both fingers in the air for the first time during the Olympics. The crowd roared and later responded with chants of "Usain, Usain."
Blake celebrated with Bolt, the pair embracing in front of Jamaican fans in the jam-packed 80,000-seat stadium.
Results: Men's 100m final:
1. Usain Bolt (Jamaica) 9.63s.
2. Yohan Blake (Jamaica) 9.75.
3. Justin Gatlin (United States) 9.79.
4. Tyson Gay (United States) 9.80.
5. Ryan Bailey (United States) 9.88.
6. Churandy Martina (Netherlands) 9.94.
7. Richard Thompson (Trinidad & Tobago) 9.98.
8. Asafa Powell (Jamaica) 11.99.
Semi-final 3
1. Yohan Blake (Jamaica) 9.85 seconds Q
2. Tyson Gay (US.) 9.90 Q
3. Adam Gemili (Britain) 10.06
4. Derrick Atkins (Bahamas) 10.08
5. Justyn Warner (Canada) 10.09
6. Ryota Yamagata (Japan) 10.10
7. Rondel Sorrillo (Trinidad and Tobago) 10.31
Kemar Hyman (Cayman Islands) DNS
Semi-final 2
1. Usain Bolt (Jamaica) 9.87 Q
2. Ryan Bailey (US) 9.96 Q
3. Richard Thompson (Trinidad and Tobago) 10.02 Q
4. Dwain Chambers (Britain) 10.05
5. Gerald Phiri (Zambia) 10.11
6. Daniel Bailey (Antigua and Barbuda) 10.16
7. Antoine Adams (St. Kitts and Nevis) 10.27
8. Su Bingtian (China) 10.28
Semi-final 1
1. Justin Gatlin (US) 9.82 Q
2. Churandy Martina (Netherlands) 9.91 Q
3. Asafa Powell (Jamaica) 9.94 Q
4. Keston Bledman (Trinidad and Tobago) 10.04
5. Ben Youssef Meite (Ivory Coast) 10.13
6. Jimmy Vicaut (France) 10.16
7. James Dasaolu (Britain) 10.18
8. Suwaibou Sanneh (Gambia) 10.18
Qualified for next round:
1. Justin Gatlin (US) 9.82
2. Yohan Blake (Jamaica) 9.85
3. Usain Bolt (Jamaica) 9.87
4. Tyson Gay (US) 9.90
5. Churandy Martina (Netherlands) 9.91
6. Asafa Powell (Jamaica) 9.94
7. Ryan Bailey (US) 9.96
8. Richard Thompson (Trinidad and Tobago) 10.02
Photograph: Lee Jin-man /AP