India's star boxer Vijender Singh moved into the quarter-finals of the men's middleweight (75-kg) category at the London Olympic Games, scoring a nail-biting one-point victory over his American opponent Terrell Gausha at the ExCel Arena in London on Thursday night.
The 26-year-old Vijender, bronze medallist at the Beijing Olympic Games, clinched a 16-15 verdict after in thrilling contest of skill and strategy.
Spurred by a vociferous crowd which kept chanting "India, India", Vijender took a slender one-point lead after the first round which ultimately was the decisive factor in the Indian's narrow victory.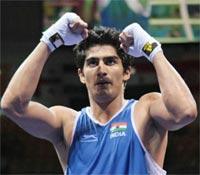 In the second round, Vijender allowed his opponent to come back a little as he left his guard open and, and though he landed a few punches, it was not enough to give him a clear lead. As a result, the second round ended 5-5.
- London Olympics 2012 - Complete coverage
Vijender adapted a more attacking strategy in the third and final round but the American was equal to the task as he fended off the punches deftly and counter attacked fiercely.
The Indian, a former world number one, will take on Abbos Atoev of Uzbekistan in the quarter-finals. Atoev prevailed over Bogdan Juratoni of Russia 12-10 in the pre-quarter-finals.
If he wins the next bout, Vijender is assured of at least a bronze medal.
"I admit I was very excited but I felt I had the measure of him and just needed to be prudent in the final round to
ensure I got through," Vijender said after the bout.