Harriet Howse is one of many Londoners looking to make a profit out of their property during this summer's Olympics, leaving the city and their homes to strangers to avoid the anticipated mayhem of an overcrowded capital.
One property website's survey says an estimated one-in-three Londoners are considering packing their bags and moving in with family and friends or heading abroad when 11 million sports fans, media and corporate clients descend on the capital for the world's biggest sporting extravaganza.
- Indian Army's Mission Olympics
You don't have to hate sport either to be thinking about moving out.
Behind her blue door in northeast London, Howse, a fan of tennis who keeps herself fit, is planning to move out of her four-bedroom terraced house and stay with her family. A housemate will be travelling to Japan.
"The cost of the tickets was so high that we couldn't afford to put a bid in for any of them ... and I think the mayhem and chaos caused by the Olympics would be a good reason to get out of London," Howse said.
"I'm pro-Olympics but I think the crowds are going to be crazy."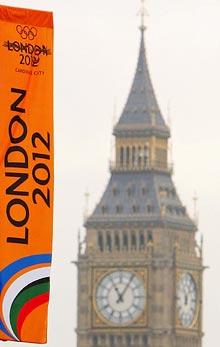 Her minimalist house, with its neutral colours alleviated by orange sofas and large paintings, is expected to fetch up to 2,000 pounds per week, four times the rent the 26-year-old university international officer could normally expect.
Other London homeowners are looking to ask for six times the usual rate.
A survey by property website FindaProperty.com last year estimated the total Olympics rental market for flats, apartments or houses could be worth 314 million pounds, based on one-in-three homeowners considering letting out some or all of their properties.
Estate agents say the number of short-let clients on their books has risen sharply.
Even high-end service specialists such as onefinestay.com, which handles properties typically worth 1.5 million pounds, is receiving between 100-150 calls a week from people looking to rent out their property during the Games.
"We're expecting it to be by far the busiest time we'll ever have had," said Greg Marsh, co-founder of the site.
"People are going to be taking off for the period of the Games in order that they can earn a bit of extra income while they are away."
Renting can prove attractive for visitors because it offers more flexibility while prices are likely to be cheaper than London's notoriously expensive hotels.
- London faces perfect traffic storm during Olympics
"You could have a bowl of cornflakes for breakfast and you don't have all the associated costs of living in a hotel," said Sarah Tonkinson, lettings director at estate agents Foxtons.
Block booking has reduced the number of available hotel rooms, with the danger that it will push up prices, though London Olympic organisers (LOCOG) recently released more than 120,000 unwanted hotel room nights for resale.
Some hotels are reportedly holding customers on long waiting lists before releasing prices, but some tour operators have said the industry's expected visitor numbers are hugely inflated.
The trick for both hoteliers and homeowners is getting the timing right when looking to charge a premium.
"It's better to take something at the lower price earlier and know you have definitely got something secure rather than run the risk and try to achieve a higher price later on," said Darren Rebeiro, head of Olympic services at Keatons estate agents.
Prices advertised before the Sydney 2000 Olympics were seven times the market rate.
"I think it is unlikely anyone achieved that," he said.
Renting is proving popular with foreign media, security firms, embassies and athletics federations, some of whom will look to book 200 rooms at a time. Others who are renting are corporates, especially from the US, Asia and Russia.
Demand has focused on historic Greenwich, with its maritime history and open spaces as well as its proximity to the equestrian events and other Olympic riverside venues.
One seven-bedroom property is on the market for 24,000 pounds per week.
Other popular areas, especially among Americans, include west London, with its upmarket shops, museums and luxury properties.
Wills Thomson, 48, is renting out a room in his two-bedroom flat in Chelsea to a father and son who booked last year on Crashpadder.com.
The archivist said it is an opportunity to meet "charming people from all walks of life from around the world" as well as earn a little pocket money.
"It's like staying with a friend of a friend, though they are paying for that privilege," he said.
Stephen Rapoport, founder of Crashpadder, said he expects to double the site's 2,100 hosts by Games time, while bookings were up by 245 percent compared with the same period last year.
People living in Stratford, gateway to the Olympic Park, are also looking to cash in.
But estate agents in the formerly run-down part of east London, once home to noxious industries and slaughterhouses, are warning locals they may not be sitting on gold mines.
They urged caution against the expectation among some that "Mr and Mrs American" would be prepared to pay bloated rents for their properties.
Residents are likely to lose out to developers and buy-to-let property tycoons who moved in after London was chosen to host the Olympics, investing in new modern luxury apartments, which are proving more desirable.
"It's going to be the investors that earn the money," said Daniel Barbanel, sales and marketing director at local independent residential property agents Outlook.
"Because ultimately, the local people -- with respect to them -- their houses and flats aren't particularly well decorated."