Ace discuss thrower Vikas Gowda says he is neither "distracted" by the scarcity of funds nor intimidated by the higher rankings of his rivals as the recent good results at the international stage have given him the confidence of delivering at the London Olympics.
Gowda became the first Indian to win a medal at the prestigious Diamond League Series last month during the New York leg where he picked up a bronze with a throw of 64.86m. He also topped the IAAF rankings for a while.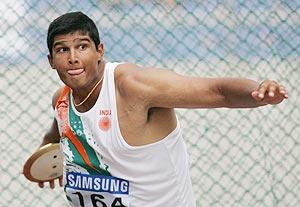 Gowda, who has been training at John Godina World Throws Centre in Phoenix, Arizona for the last three years, is facing a money crunch as the support that has been provided the government covers just one-fifth of his total expenses.
"As of now I have only received funding that will cover about 20 percent of my expenses. I have been told that I will receive more but I don't know (when). It is a constant issue I have been dealing with but I will not let it be a distraction," Gowda said.
He is considered one the two best bets for India to win a medal in athletics in London -- the other being discus thrower Krishna Poonia, but Gowda does not want to take the extra pressure by focussing on a podium finish.
Asked about the possibility of becoming the first track and field athlete from India to win an Olympic medal, Gowda said, "I am approaching the Olympics as if it were just another meet. Obviously I know it is a huge meet and I hope to use that extra excitement to my advantage.
"Competing well in two Diamond League meets has given me confidence in that I know I can compete against the best," said the 29-year-old national record holder.
Currently, there are 16 throwers above him in the IAAF list, with reigning world and European champion Robert Harting leading the pack with year's best of 70.66m.
The six-feet-nine-inch tall Indian, whose personal best is 66.28m he had at Norman, Oklahoma in April, said what matters is the performance on the day of the competition and not on the rankings.
"Last year I entered the World Championships (in Daegue, South Korea) with the 33rd farthest throw in the world but finished seventh in the competition. You cannot look at the list when trying to assess the competition," said the Mysore-born athlete.
Gowda failed to qualify for the final round in 2008 Beijing Olympics but he feels that he has improved by leaps and bounds since then under coach Godina, an Olympic medalist and former world champion in shot put.
"I am a totally different thrower than what I was in Beijing. Physically and technically I am lot better. I am feeling better and better every week physically and mentally.
"Training with John has made a big difference for me. I started training with him in November 2009. If you compare my performance before I started training with him you will see a huge difference."
Gowda wanted either his father or Godina as his personal coach in the Olympics but the AFI is unlikely to name either of them among the four coaches to accompany 14 athletes as there has been similar demands from other athletes also.
But he said in any case both are going to London with him. "My father and John will be accompanying me to London," he said.
Gowda won a silver in the Delhi Commonwealth Games and a bronze in the Guangzhou Asian Games.