Liverpool team up with local church to feed vulnerable during lockdown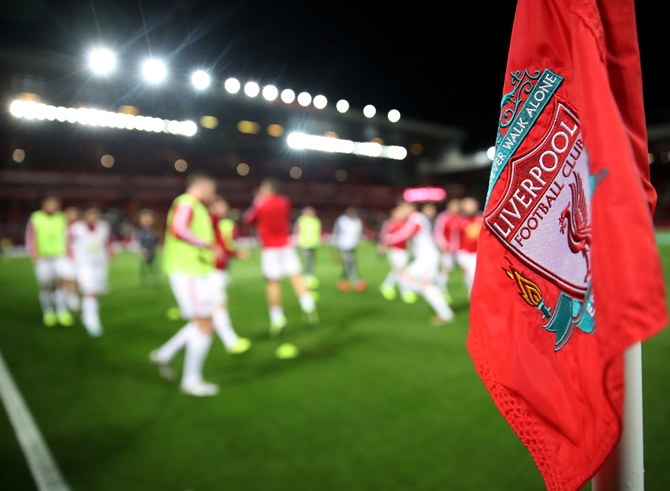 Premier League leaders Liverpool are helping feed vulnerable and elderly people within the community during the novel coronavirus outbreak with the help of local church members.
A volunteer group from Christ Church in Anfield -- which is located opposite the club's Kop stand -- runs a foodbank and cooks meals for people on a Thursday as part of a service called "Scouse in the House."
Ingredients for the free two-course meal are provided by the European champions.
It includes 'scouse' -- a lamb or beef stew commonly eaten by sailors throughout northern Europe and popular in ports like Liverpool.
Food is usually consumed in the church hall but because of the lockdown in Britain due to the COVID-19 pandemic, volunteers have begun a takeaway service outside the stadium.
Chelsea to provide 78,000 meals for medical, charity workers
Liverpool's league rivals Chelsea are also helping vulnerable groups, with the London club announcing that they would begin providing 78,000 meals to the National Health Service (NHS) and charities that support the elderly.
The Blues' donation will help NHS staff working long hours across five hospitals.
"We are and have always been committed to supporting our communities, especially the vulnerable, and at this time we recognise this is more important than ever," Chelsea chairman Bruce Buck said.
"Our owner, Roman Abramovich, has been instrumental in challenging us to find ways to support those in need."
Manchester United's Old Trafford stadium, normally a sea of red, will be lit up in blue to show support for the NHS during the pandemic.
"While Old Trafford is not normally bathed in blue, it's been organised to recognise the extraordinary efforts of the frontline workers battling the COVID-19 pandemic," United said in a statement. (AFP)
UEFA executive committee to meet as uncertainty continues
UEFA will hold a meeting of its decision-making executive committee on April 23 with discussions likely to centre on how, when and if the European football season will be able to resume amid the coronavirus outbreak.
The sport has been brought to a standstill by the outbreak with the Euro 2020 competition postponed until next year and both national leagues and continental club competitions on hold.
Football associations, leagues, clubs and players around Europe are debating how to complete seasons and ensure the safety of players and officials.
UEFA, European soccer's governing body, has made it clear that it wants its member associations to complete their domestic seasons rather than abandon them. It also hopes to finish the Champions League and Europa League competitions.
UEFA said in a statement that the meeting, to be preceded on Tuesday by a session for the general secretaries of its 55 member associations, will "discuss the latest developments regarding the impact caused by the coronavirus outbreak on European football."
"The meetings will look at developments across both domestic and European competitions," it added. Both will be held by video conference.