'These two guys (Roger Federer, Rafael Nadal) made me the player I am today. I think these rivalries have allowed me to grow'
'Roger always makes you play your best. My best is what is going to be necessary to win against him'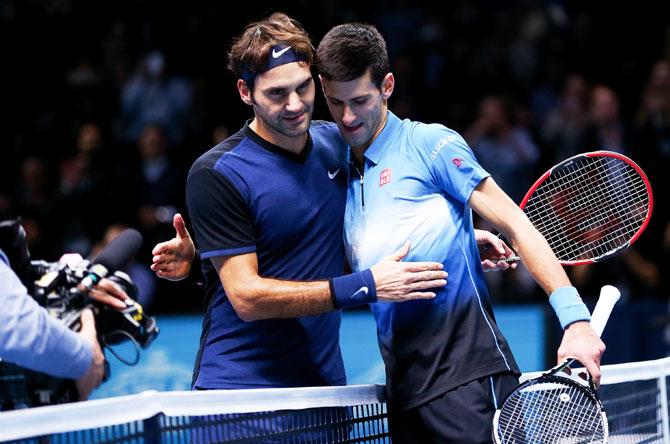 IMAGE: Roger Federer (left) embraces Novak Djokovic. Photograph: Clive Brunskill/Getty Images
Reigning champion Novak Djokovic and No 3 seed Roger Federer will square off in a modern tennis classic when they take to centre court in the first men's semi-final at the Australian Open on Thursday.
At stake is a shot at history. Both are bidding to equal Australian Roy Emerson's record of six titles, set in the pre-Open era, and their head-to-head count is tied at 22 wins apiece.
Federer, who has not won a Grand Slam title since 2012 and lost five of his eight matches against Djokovic last year, is in arguably the better form, dropping just one set in five matches en route to his mouth-watering clash with the Serb.
Undisputed world number one Djokovic has dropped a set more than the Swiss but has never lost in the semi-finals of the tournament.
Djokovic came back strongly after making 100 unforced errors against Frenchman Gilles Simon in the fourth round to down No 7 seed Kei Nishikori 6-3, 6-2, 6-4 in the quarter-finals.
The 44 matches between Djokovic and Federer is the second highest tally in the Open era, beaten only by the 47 between Djokovic and Rafael Nadal, and the Serb credits his two biggest rivals for his dominance of recent years.
"These two guys made me the player I am today. I think these rivalries have allowed me to grow ...and understand what it takes to be on the level that they are on," he said.
"Roger always makes you play your best. My best is what is going to be necessary to win against him."