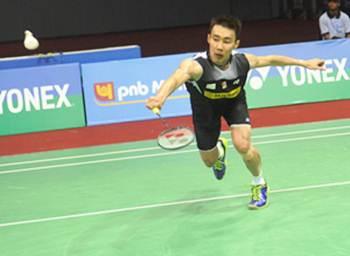 Defending champion Lee Chong Wei produced one of his finest performances to retain the men's singles title with a straight-game victory over familiar foe Chen Long of China in the final of the US $250,000 Yonex Sunrise Metlife India Super Series in Delhi on Sunday.
In an all-Chinese women's singles final, All-England champion Shixian Wang, seeded second, kept her cool at crucial moments to overcome Olympic champion and top seed Li Xuerui 22-20, 21-19 in 47 minutes.
After this result, the two players have four wins each.
World No 1 Lee from Malaysia was more precise with his strokes and judgement to defeat Chen 21-13, 21-17 in 55 minutes to clinch his third title of the season, at the Siri Fort Sports complex.
He had won the All England and Malaysia Open early this year.
After the victory, Lee, who turns 32 in October, said he may come back next year if he stays injury-free.
"I dedicate this victory to my son who will be one year old next week. Next is Singapore Open. If I'll remain injury-free this year, then I might come back for India Open. Thanks to fans. I will be back for Thomas Cup," Lee said.
Shixian said: "I was confident ahead of the match as I had recently defeated her in the All England. I knew her game. Last year my game wasn't stable. There were lots of ups and downs. So this season my target is to stay fit."
China also clinched the women's doubles title with Yuanting Tang and Yang (F) Yu, who were among those banned during the match-fixing scandal at the London Olympics, prevailing over Korean pair of Kyung Eun Jung and Ha Na Kim 21-10, 13-21, 21-16 in an hour-long battle.
However, the Danish pair of Mathias Boe and Carsten Mogensen, seeded second, kept the Chinese at bay in the men's doubles competition as they bounced back from a game down to outwit third seeds Xiaolong Liu and Zihan Qiu 17-21, 21-15, 21-15 in a match that lasted 66 minutes.
The London Olympic bronze medallist pair of Joachim Fischer Nielsen and Christinna Pedersen also continued their good run as they beat the fourth seeded Korean combo of Sung Hyun Ko and Ha Na Kim 21-16, 18-21, 21-18 to clinch the mixed doubles title.
Results:
Women singles: 2-Wang Shixian (CHN) bt 1-Li Xuerui (CHN) 22-20, 21-19.
Men singles: 1-Lee Chong Wei (MAS) bt 2-Chen Long (CHN) 21-13, 21-17.
Women's doubles: Yuanting Tang/Yang (F) Yu (CHN) bt Kyung Eun Jung/Ha Na Kim (KOR) 21-10, 13-21, 21-16.
Men's doubles: 2-Mathias Boe/Casten Mogensen (DEN) 3-Liu Xiaolong/Qui Zihan (CHN) 17-21, 21-15, 21-15.
Mixed doubles: 3-Joachim Fischer Nielsen/Christinna Pedersen (DEN)
Image: Lee Chong Wei