American Floyd Landis returned from nowhere to re-ignite his chances of winning the Tour de France after an impressive solo effort handed him the stage victory on Thursday.
Landis, who lost his yellow jersey on Wednesday after falling apart during the ascent to La Toussuire, surprised the peloton when he broke away on the opening climb of the 17th stage to the first-category col des Saisies.
"I thought the peloton would be disorganised if I attacked early," the 30-year-old told reporters.
The Phonak rider never looked back and crossed the line five minutes 42 seconds ahead of Spaniard Carlos Sastre.
After losing more than eight minutes on Wednesday, Landis is third in the overall standings, 30 seconds adrift of Spaniard Oscar Pereiro Sio and 18 behind Sastre.
"I want to win the Tour, whatever I got to do, if I had a bad day, I had to make up for it," said Landis.
"I told everybody last night that if somebody wants to win this race they're going to have to earn it."
For the first time since 1989, when Frenchman Laurent Fignon lost to American Greg LeMond by eight seconds, the Tour will be decided in the last time trial.
On Saturday, Landis will start down the ramp with an advantage over his rivals.
He finished the first time trial in Rennes in second place, 1:10 ahead of Sastre and with a 1:40 lead over Pereiro.
"I'm confident in my time trialing, if you saw today, then you probably agree with me," said Landis, who rode like a time-trialist on his way to the biggest surprise of this year's Tour.
'NOT DONE'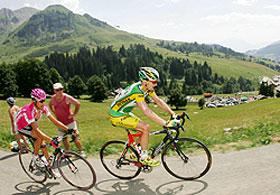 "It was a breakaway like we used to see in the old times," said Phonak team manager John Lelangue.
Landis, who will undergo hip surgery after the Tour, hinted it would take a lot of effort from his rivals to prevent him winning the race.
Asked about his stage victory, he said: "I do not care. I came here to win the Tour and that's what I still want to do, and I'm not done fighting yet."
Landis added he wanted to honour his leader status in the Phonak team.
"I was very, very disappointed yesterday. My team had worked very well for me and today I thought I had to keep fighting. I had to show I deserved to be a leader," he said.
The American, who has been forced to drastically change his conservative tactics, sweated blood on the ascent to the hors-category col de Joux Plane but never let Sastre believe he could come back.
"I drank a lot. Maybe it was for the beer I had last night," Landis said with a smile.
"I could not give up after one bad day. I did it for the team."
However, Landis will be on his own on Saturday when he starts the 57-km time trial from Le Creusot to Montceau-les-Mines.
"We will have a nice time trial, everything can happen," said Lelangue.
"However, it's been a beautiful Tour."