To enter 30s might signal decline in many sports but for veteran luge racer Shiva Keshavan, it is the start of his peak form which, he feels, would make him the first Indian to win a Winter Olympics medal, come 2014.
The 31-year-old, who is called the 'fastest Indian on ice', believes that 30s is the prime age for a luge athlete.
"For a luge athlete prime age is late 30s. With experience comes technique. So, 2014 and 2018 is when I should be at the peak of my abilities," Keshavan said.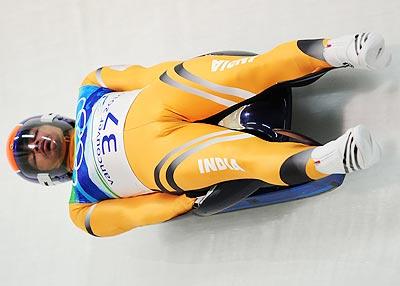 After a second successive Asian title, Keshavan is expecting financial assistance from the government to realize his dream.
"From now on every race I participate in, I would look to better my international rankings so that I qualify for the next Olympics. There will be nine world cup races next and would like to participate in most of them," Keshavan said.
All his practice sessions would be organised keeping in mind the Winter Olympics to be held at Suchi, Russia. He hopes to keep his world rankings consistent, in order to get a call for what would be his fifth Olympics since 1998.
"Next winter games would be my fifth Olympics. I am really determined to win the country the first ever gold in a winter sport and practicing hard for it," Keshavan, who still holds the world record for being the youngest luge athlete to compete in Olympics, said.
He recently did the country proud by successfully defending the Asian title at Nagano in Japan.
"I am really happy to retain my title. The level of competition was much tougher this time around. After last year's defeat, the Japanese were trying to get the medals back. They had really good preparation. So it makes it all the more special," a proud Keshavan said.
In doing so, Keshavan also set up a new Asian record by clocking just 49.59 seconds on a 1320 metre long track.
Keshavan had his share of bad luck in the run up to prepare for the tournament when he overdid physical training and tore two shoulder ligaments and could recover just a few weeks ahead of the Asian championship.
"My preparations suffered due to the injury. I concentrated on things I could do such as driving, technical aspect. Fortunately, it paid off," he said.
The fastest Indian on ice has made a representation to the sports ministry, seeking financial support to fund his training sessions abroad and other international competitions.
"Training is very important in our sport. We do not have sufficient infrastructure. So, we have to travel abroad for it. I had made a representation to the government to provide me financial assistance. But nothing has materialised till now," Keshavan said.
Keshavan believes that there is no dearth of talent in the country but it requires constant support from the government.
The Sochi track where winter Olympics will take place is the largest luge track in the world at over 1800 metre long.
Keshavan seemed confident after faring well on that track during an international compulsory training week earlier in the year.
"I will be going for three World Championships in January and February. I will try to get enough points in these three races to get qualification (for the Olympics) as I do not have funds to participate in all," he lamented.
Keshavan was pleasantly surprised on receiving a communication from Sports Minister Jitendra Singh congratulating him for his achievement.
"For the first time I received an e-mail from the ministry yesterday congratulating me for my win. I am all the more hopeful now that my case would be expedited," Keshavan said.